Stafford Hospital inquiry 'could cost trust £1m'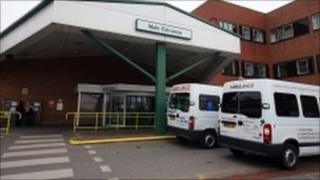 A public inquiry into failings at a Staffordshire hospital could cost the NHS trust that runs it £1m, the chief executive says.
Last year it was reported there had been at least 400 more deaths at Stafford Hospital than would be expected between 2005 and 2008.
The public inquiry is set to start next month at the town's council offices.
Chief executive Anthony Sumara said the figure takes into account staff time and the cost of legal representation.
'Considerable progress'
He said although the money could be better spent elsewhere it was important to have a thorough inquiry onto what happened.
He said: "£1m would open a ward for a year, it would get you 30 nurses for a year.
"Don't forget if you're paying for it in the public inquiry, it's a non-recurring figure so actually you only get it for the one year but, we could buy a lot of equipment with £1m."
Mr Sumara took over as chief executive of the Mid Staffordshire NHS Foundation Trust in July 2009 after his predecessor resigned in light of the Healthcare Commission's critical report into the number of deaths.
Two previous inquiries, held in private, found evidence of neglect.
In July this year the Care Quality Commission (CQC) said the hospital had made considerable progress.
Campaigners have been calling for a public inquiry for some time and the Conservative government promised one if elected.