Warrants issued for Stoke Minster lead theft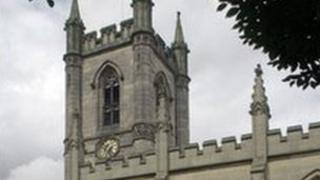 Arrest warrants have been issued for two men who stole lead from the roof of Stoke Minster after they failed to appear in court to be sentenced.
Spartakus Grachauskas, 23 and Mykolas Serdicenko, 18, from Crewe, admitted the theft last month.
A third man, Nikoladus Janovicius, 23, had not been informed of the hearing at Stoke-on-Trent Crown Court and will be sentenced in three weeks.
It will cost £30,000 for replacements and repairs, the church said.
An appeal set up by the Diocese of Lichfield to raise the money following the theft in April this year has so far raised £5,000.