Environmental crime unit set up in Stoke-on-Trent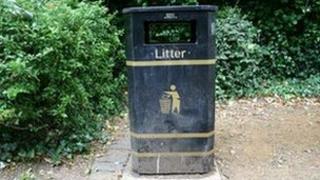 A £400,000 environmental crime unit has been set up in Stoke-on-Trent to help reduce anti-social behaviour such as daubing graffiti and littering.
The city council said it had approved recruitment for the six-month scheme in response to residents' concerns.
Its zero-tolerance policy towards litter, fouling and fly posting in 2009 failed because it was hard to enforce, the council's scrutiny committee said.
The new team has been given the power to fine offenders between £50 to £80.
A poster campaign will be used to raise awareness about the offences then fines will be introduced to enforce the rules.
'About time'
Terry Follows, cabinet member for environmental services, added: "Environmental crimes are seen as anti-social behaviour.
"In my view cleaning up after environmental crime is expensive and is an unnecessary burden on the taxpayer."
Bernard Wragg, chairman of Cobridge Residents' Action Group said: "In my area there are dozens of neighbourhood impact officers and area implementation team officers, but I'm told that hardly any of them have the powers to take enforcement action.
"Instead of hiring even more officers, at a time when the council is talking about saving money, I think it would be better to train the current staff to do the job properly."
Fellow Elm Street resident Christopher Igwe said rubbish was regularly dumped in his street.
"I've been living here for two years now and nothing has changed, so I think it's about time the council did something to stop this problem."