Stoke-on-Trent has England's 'third weakest resilience'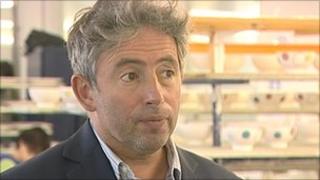 Stoke-on-Trent is the third least resilient area in England to withstand economic shocks, a study suggests.
The BBC commissioned Experian to assess how resilient each of the 324 English council regions are to things such as public sector spending cuts.
The research shows a high proportion of the workforce in Stoke-on-Trent are employed in vulnerable sectors.
But more positively, it is ranked as the second most adaptive area in the BBC West Midlands region.
Nationally, Stafford, Stoke and the Staffordshire Moorlands are ranked 11th, 16th and 19th respectively for their adaptive capacity, the Experian research suggests.
Adaptivity was measured on the number of firms that have shown signs of distress in the past but have recovered, indicating they should be able to successfully adapt to future economic shocks.
While the pottery industry has declined from a peak workforce of 30,000 to just 6,000 today, one firm has proved it is able to adapt.
Emma Bridgewater has grown in size from just 12 staff 25 years ago to 225 currently.
Matthew Rice, Emma Bridgewater's husband, designs many of the company's products and said keeping in touch with what customers really wanted was key.
"I think when Emma and I sit down to design what we want to produce, we are designing for ourselves - we think, 'what would we like?'," he said.
"I think that's maybe something that can go astray, particularly as business get larger.
"I think there's an inclination for industries, particularly industries on one place, to become insular."
He said they were "serious" about continuing to build up the company in Stoke-on-Trent, citing better production flexibility in the UK compared to abroad despite the savings.
The research also showed that Cannock Chase has a low number of exporting businesses, being ranked 292nd out of 324 nationally.
The town has seen the seventh highest number of insolvencies of anywhere in England over the past nine months.
Chancellor George Osborne will outline his spending review on 20 October.
Lord Digby Jones, former chief of the CBI, told BBC News that private sector workers, who have taken pay cuts to try to keep their jobs, were "fed up" with the public sector, which he said had to face up to the government cuts.
BBC Radio Stoke is hosting a debate and phone-in about the research from 0900 BST on Friday.