Man severs thumb in DIY decking accident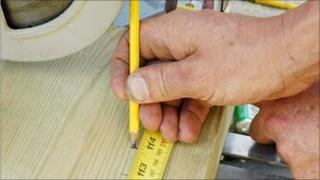 A man was airlifted to hospital after "partially amputating" his thumb while laying decking in the garden of his Tamworth home.
Ambulance staff were called to Neville Street in Glascote at around 1100 BST.
A West Midlands Ambulance Service spokeswoman said: "Crews arrived on scene to find a 55-year-old man with a partially amputated thumb.
"The man had been laying decking in his garden when he reportedly cut his thumb on a circular saw."
The spokesman added: "The man was transferring by ambulance to the awaiting helicopter which had landed in a park nearby.
"Due to the serious nature of the man's injury, the air ambulance was utilised to convey the man quickly to Royal Derby Hospital, a specialist hand surgery centre, for further treatment."