Youngsters make art mural to Chesterton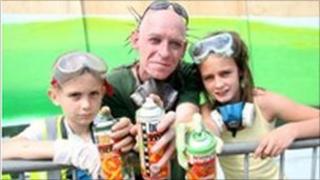 Young people are helping make a mural to their Staffordshire town as part of a multi-million pound project.
Members of Chesterton Youth Club are working with community artists on the public art on hoardings around the building site of the new Vision Centre.
The graffiti art piece was based on the themes of past, present and future Chesterton, the county council said.
The centre, which will offer advice and training for young people, is being built with £4.4m of lottery funds.
Staffordshire Young People's Service, part of the county council, is contributing about £250,000 to the project.