Bikers targeted in Staffordshire safety drive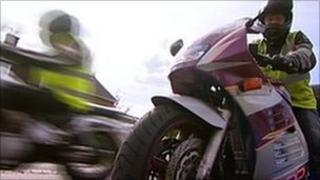 Staffordshire Police are talking to motorcyclists about how to keep safe on the county's roads.
The move follows the deaths of three motorcylists in Staffordshire over the last two weeks.
Police said they planned to stop more than 400 motorcyclists to talk to them and offer safety advice over the weekend.
Two men died when their motorbikes collided on the B5016 in Burton-upon-Trent on 16 August.
Another motorcyclist was killed in a collision with a tractor in Broughton on 19 August. The tractor driver was arrested on suspicion of dangerous driving after the crash.
Police are working with the county council for the bank holiday safety initiative.
Across the West Midlands, 41 people were killed in motorbike accidents last year.