Stoke City fan to watch game after school roof fall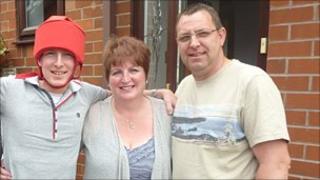 A boy who fractured his skull in 10 places falling through a roof is to watch his favourite football team play at home for the first time since May.
Thomas Buckett, 16, fell through the roof of Clayton Hall Business and Language College, Newcastle-under-Lyme, Staffordshire, on 30 May.
The Stoke City supporter will attend their Premier League game against Tottenham Hotspur on Saturday.
Stoke defender Ryan Shawcross, 22, is to visit Thomas at home on Wednesday.
Thomas's mother, Mandy, has described the progress of her son as "an absolute miracle".