Inquiry into Stafford Hospital deaths opens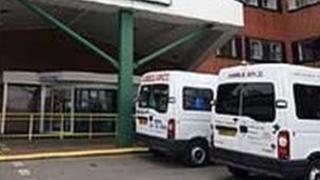 A public inquiry into failings at Stafford Hospital has formally opened.
Inquiry chairman Robert Francis QC said the full hearings due later this year would be as open as possible.
A health watchdog reported there had been at least 400 more deaths than expected between 2005 and 2008.
Meanwhile, Health Secretary Andrew Lansley told the Health Select Committee there had been no chain of responsibility at the Mid Staffordshire NHS Trust which runs the hospital.
He claimed that government plans to reorganise the health service would make it easier to establish who was responsible when things went wrong at hospitals.
The Conservative Party had promised a new inquiry after earlier reviews criticised "appalling" standards at Stafford Hospital.
'Challenging task'
Mr Francis, who spoke at the procedural hearing in Acton Trussell, said all future hearings would be held in public unless there was a good reason to hold them privately.
People will give evidence under oath at the inquiry.
Mr Francis said the inquiry would attempt to establish the role of supervisory and regulatory bodies in events at Stafford Hospital between 2005 and 2009.
Making an opening statement to an audience of around 100 people, including members of groups lobbying for health service reform, he urged senior NHS officers to make swift and full disclosures of relevant material to the inquiry.
"The task is a very challenging one," he said.
"It is already apparent that there are a large number of bodies, some part of the NHS and the Department of Health structure, and some independent, which may have had a role to play in the monitoring of the trust.
"The inquiry will have to examine not only what each of these did, but also the interaction between them."
Mr Francis said a venue for the inquiry was still being sought, but he was mindful that many people wanted it to be held in Stafford.
In 2009, the Healthcare Commission revealed poor standards at the hospital, including cases where receptionists had been used to assess emergency patients.
Despite two previous inquiries campaigners demanded a public inquiry which would compel witnesses to attend and be cross-examined.