Self Esteem: Sheffield singer 'lost her tiny mind' over Meadowhall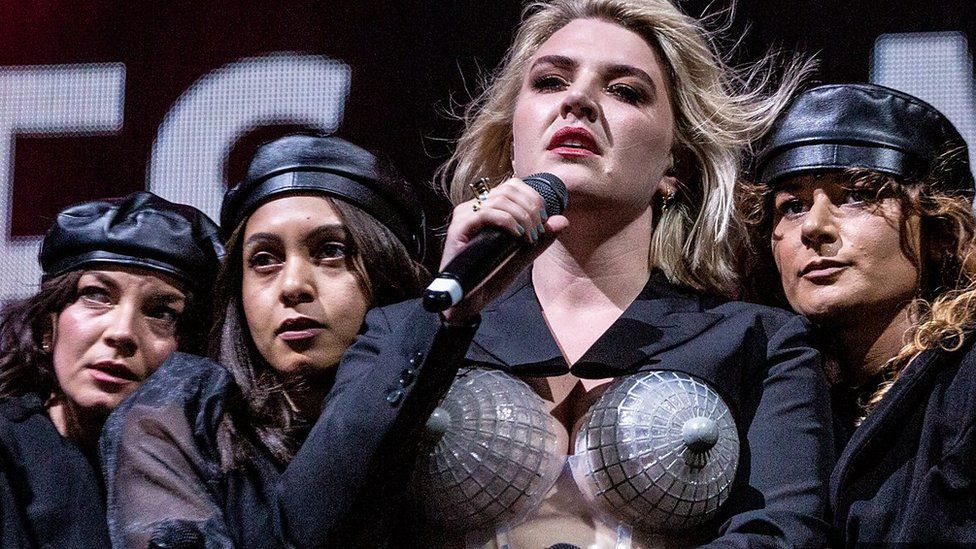 Singer Self Esteem said her Glastonbury outfit was inspired by Sheffield's Meadowhall shopping centre because when it opened she "lost her tiny mind".
The South Yorkshire songwriter wore a silicone bra with cups replicating the two glass domes of the mall's roof, and a cape embroidered with its outline.
Self Esteem, real name Rebecca Lucy Taylor, said as a child she'd "march around there like a real chic adult".
She added being on the food court's video wall was a "major goal" of hers.
"I dunno how to explain, but the Americanised shopping mall has always excited me since," she said.
The cape was made by R & R Atelier, and the corseted bra was created by fashion designer Ollie Spragley.
His business, Fetish Daddy Gear, makes leather and latex rubber clothing and was known to Ms Taylor's stylist Luke Day.
Mr Spragley said: "It was her concept and we brought it to life.
"Rebecca had been saying she really wanted to do something with Meadowhall, as it had always been a dream of hers to get on the big screens there.
"She also said she wanted to give a nod to Madonna and her Jean-Paul Gaultier corset with the conical bra, so Luke came to me and said, do you think we could do something?"
The outfit was made in three weeks, one week to measure and order the materials, and two weeks working "flat out" to make the costume.
Mr Spragley said the domes were 3D printed then cast in silicone, which was slightly translucent to "keep it as PG as needed".
He said: "There are some clients I have and you can see in their face that they feel so beautiful.
"I saw her looking so happy and proud, I have to say I have been absolutely buzzing all weekend from seeing it.
"I have had such incredible reactions from the media, from Twitter, how much it has been shown on TV, it has been amazing."
Self Esteem was named BBC Music's Introducing Artist of the Year 2021 and last October released her second album, Prioritise Pleasure, to critical acclaim.
Her tour comes to the Sheffield Tramlines festival in July.