Sheffield Hallam: Sherwood writer's concern over uni's English Lit course move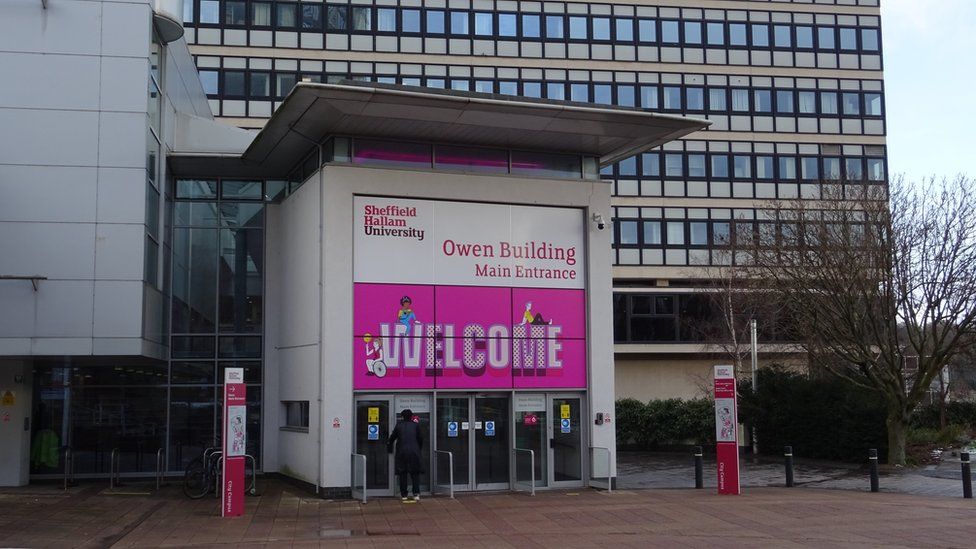 Fewer chances to study humanities and the arts will mean fewer working class writers and artists, the author of BBC drama Sherwood has warned.
James Graham commented following Sheffield Hallam University's decision to suspend the teaching of English Literature as a degree.
He blamed a "huge reduction" of time given to the arts in state schools, meaning fewer course applications.
The university said English Literature would become part of a broader degree.
The current course would continue for this academic year, but would be suspended from September 2023, a Sheffield Hallam spokesperson said.
The move was connected to demand for the course and to application numbers and was part of a "small number of courses being suspended or closed", they added.
There would be no job losses as a result of the move, the university said.
A Sheffield Hallam spokesperson said: "As a large comprehensive university offering more than 600 undergraduate and postgraduate degrees, we keep our portfolio of courses under constant review to ensure they align to the latest demands from students and employers."
The university warned against conflating the changes to its English Literature course with any wider debate about government funding.
Mr Graham said it was important to discuss the opportunities available within arts and humanities for young people from all backgrounds.
"In normal state schools, we've seen a huge reduction in the amount of teaching time, funding and emphasis on drama, art and music," he said.
"What you're seeing is a vast reduction in school plays, orchestras. So, when these young people hit the age of higher education applications they've been told for many years there is less value to these subjects. I fundamentally disagree."
Meanwhile, Jo Grady, University and College Union general secretary, said Sheffield Hallam's decision was "as shocking as it is depressing", adding that it "seems part of a wider agenda being forced on universities by the government against the arts and humanities".
Dr Grady warned the decision at Sheffield Hallam and similar moves in Huddersfield and Wolverhampton would be "hugely damaging for access".
"The universities most vulnerable are those with a higher number of less well-off students and it is unconscionable to deny them the chance to study subjects like literature, art, drama and music," she added.
Mr Graham, who studied drama at the University of Hull, said "Of course you don't need a degree to become an artist, but for me personally, coming from a more working class background, I needed the encouragement and support of my university degree in order to become a playwright."
The Department for Education has been approached for a response to Mr Graham's comments.
Related Internet Links
The BBC is not responsible for the content of external sites.