Sheffield clubs come together in support of men's mental health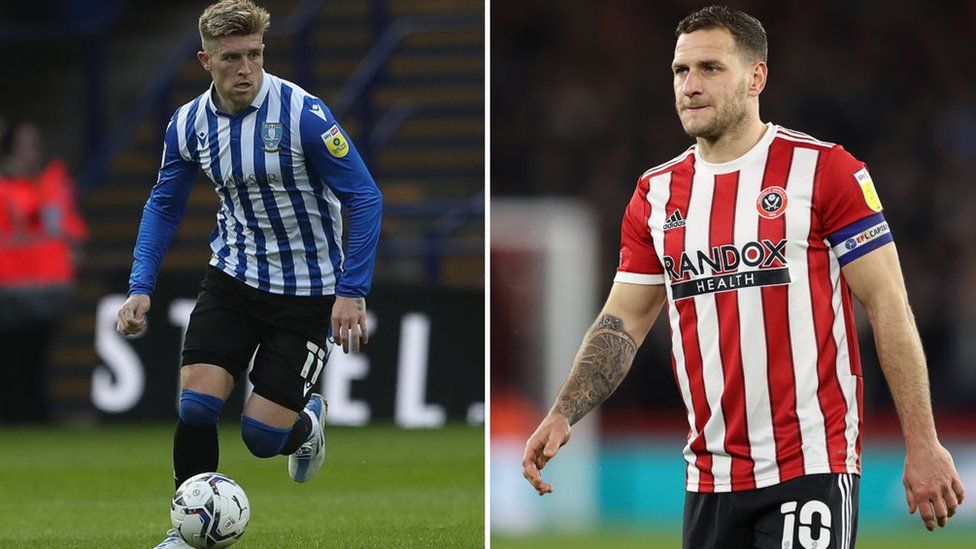 Two long-standing rival football clubs in Sheffield have joined forces in support of men's mental health.
It comes after journalist Mike McCarthy teamed up with Sheffield United last year to launch Talk Club Sheffield after the death of his son.
Mr McCarthy's son, Ross, died after a 10-year battle with depression.
Sheffield Wednesday is launching its own branch of Talk Club from Monday, with players from both clubs promoting the importance of "mental fitness".
Mr McCarthy said the Sheffield Utd Talk Club had worked "incredibly well", and it was great to see the two clubs now coming together "to offer this opportunity for men on both sides of the city".
He said it had been "a bit of a dream" to get Sheffield Wednesday involved.
"I think we can all agree that our mental health is critical, and far more important than any football match, but there are Wednesday fans who wouldn't want to come along because it's Sheffield Utd and the other way round," he said.
"We thought how good would it be if the two clubs could work together and send out the message that some things are more important than football."
Mr McCarthy said the talking club was a safe, non-judgemental, and confidential space, where men can say as little or as much as they want.
"We start off by asking the question: 'How are you? Out of 10?'. It's that simple," he added.
Mr McCarthy set up Talk Club because his son wrote a note before he died asking his family to campaign for better mental health support for men.
Co-founder Neil Harrison said: "It is testament to both clubs in standing together and recognising that regardless of the badge on your shirt, a community of men can support each other by simply talking and listening about their mental fitness.
Both Sheffield groups have been opened in conjunction with the clubs' community foundations, with sessions taking place on a Monday at Hillsborough and on a Wednesday at Bramall Lane.
If you are experiencing emotional stress, help and support is available at BBC Action Line.
Related Internet Links
The BBC is not responsible for the content of external sites.