Beau Greaves is youngest-ever darts World Championship winner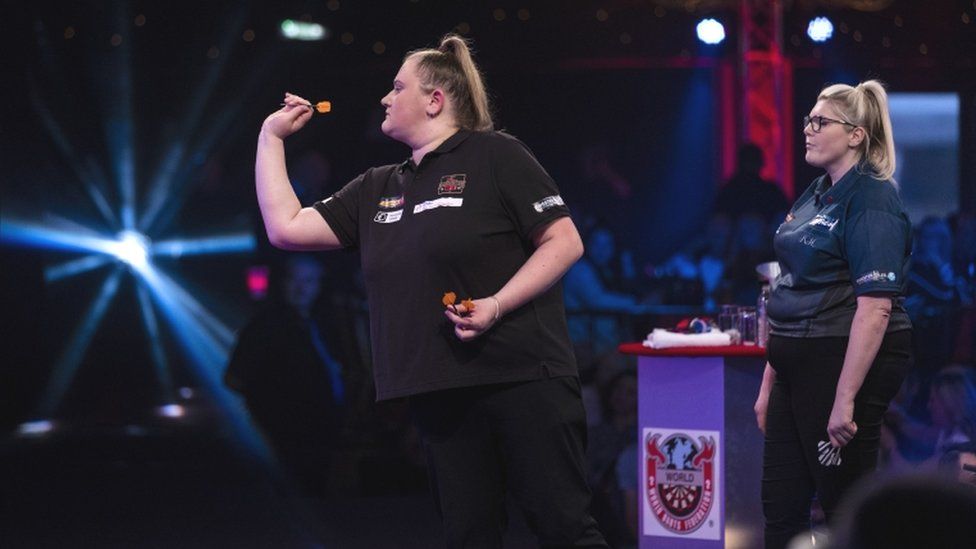 An 18-year-old darts player has become the youngest person in the sport to win a World Championship - five years after predicting she would one day do so.
Beau Greaves, from Doncaster, beat Kirsty Hutchinson 4-0 in Sunday's WDF World Championship final.
Greaves, a darts prodigy who played her first match aged 10, said in 2017: "I think I could be world darts champion one day."
On her latest win, she said: "I saved the best for last, I just played well."
Speaking to the WDF after she beat Hutchinson, Greaves added: "I've never been as happy as I am in my life, to come off the stage and say to people I am a world champion.
"That can never be took away from me now. That is mine forever."
The previous youngest winner of a World Championship was three years older than Greaves, who has set the record for both male and female competitors.
Greaves is not the youngest winner of a senior darts world title, though - in 1992, Wales' Leeanne Maddock was 17 when she won the World Masters title, organised by the now-defunct British Darts Organisation (BDO).
At the time, there was no Women's World Championship - the first was not held until 2001 - but the two tournaments have run separately for most of the past two decades.
Greaves ended the tournament at Surrey's Lakeside Country Club having dropped just one leg in the final and with an average score of more than 92.
The final was her 20th match win in a row.
Greaves was playing darts in local pubs by the age of 10, going straight in for her match and then straight home again.
Aged 13, she told the BBC: "I think anybody's beatable.
"Any girl can play darts, it's not like girls can't play darts."
Greaves' win came at the inaugural WDF World Championship, which has replaced the now-defunct BDO event.
Related Internet Links
The BBC is not responsible for the content of external sites.