Sheffield snails: Giant African breed left in bushes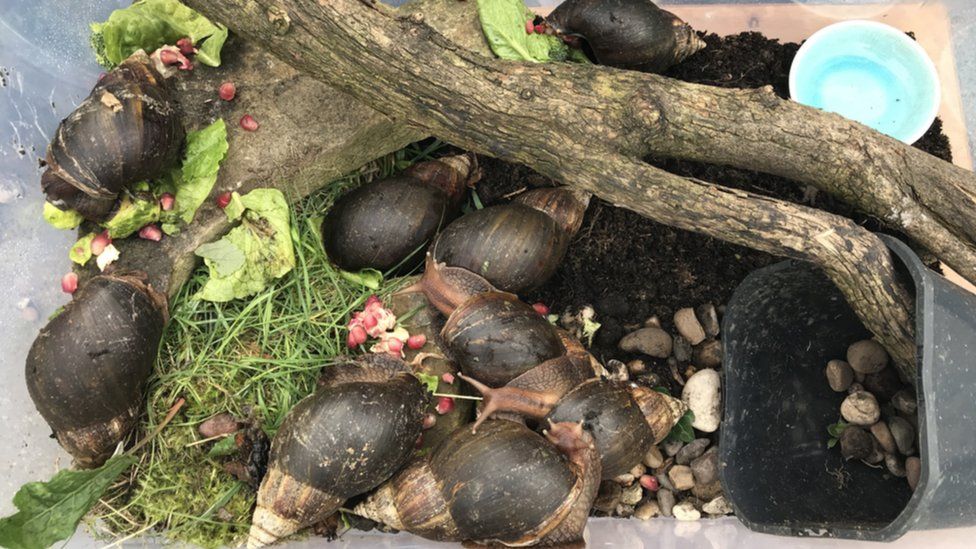 Eight Giant African land snails have been found abandoned in bushes in Sheffield.
The mammoth molluscs, whose shells are 5cm across, were found by a member of the public at Hartley Brooke Dyke in the Firth Park area on 13 March.
The RSPCA said they were in a storage box filled with soil and vegetation, but as they need a warm environment were lucky to have survived.
The snails are now being looked after until new owners can be found.
RSPCA Inspector Ben Cottle-Shaw collected the snails from the finder's home and took them to specialist exotic animal centre Reptilia in Ossett, West Yorkshire.
He said the snails' usual habitat was tropical wetlands and forests in sub-Saharan Africa, and when kept as pets they needed a humid environment with temperatures above 20C (68F).
Mr Cottle-Shaw said: "It was quite an unusual find. In fact, I've only ever fielded calls about them on three occasions previously and this is the first time I've come across them being abandoned.
"As with all pets, it's really important that anyone thinking of taking on a giant snail is aware of what is involved in taking care of them before they bring one home."
Giant African land snails include the largest land snail species known (Achatina achatina) and can often grow to shell sizes of 18cm by 9cm.
Some have been known to grow to 30cm by 15cm - and can live for up to 10 years.
The RSPCA said the creatures were hermaphrodites with both male and female reproductive organs, and could multiply very quickly.
Mr Cottle-Shaw said: "They breed very easily and two snails can turn to 20 quite quickly.
"I collected them and they were observed laying eggs at Reptilia, which they would have already been carrying.
"As they are not sex-specific you can have any two snails together and they breed.
"People can end up with lots of them. So they do need to do their research, using expert sources, before taking on ownership."
Anyone with information about who dumped the snails is being asked to contact the RSPCA.
Related Internet Links
The BBC is not responsible for the content of external sites.