Franklin Graham: Sheffield event to go ahead after legal challenge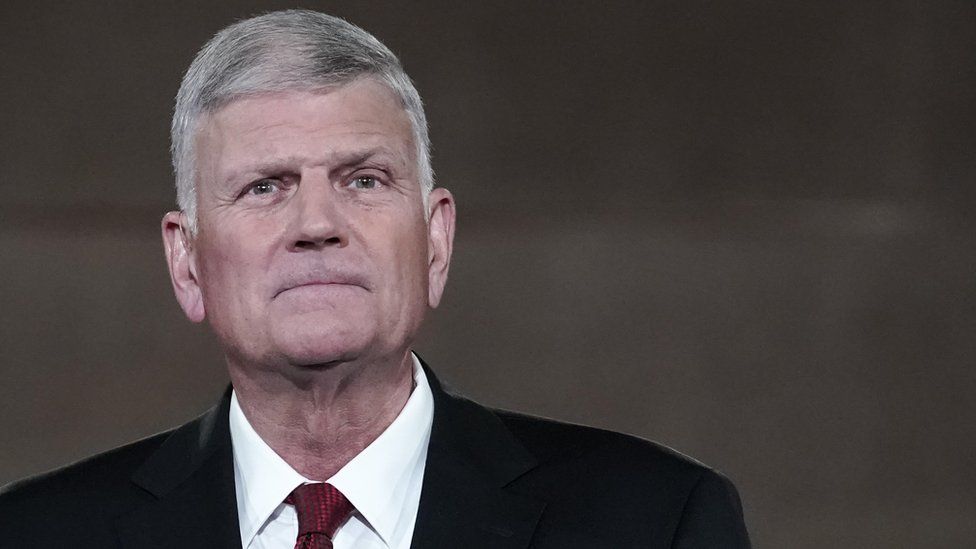 A US evangelist accused of promoting homophobic views is to stage an event in Sheffield after taking legal action to overturn a ban.
Franklin Graham, the son of preacher Billy Graham, was due to appear at Sheffield Arena in June 2020.
The event was cancelled after a backlash from community groups, religious leaders and politicians.
A legal dispute has now been settled and it is set to go ahead on 25 May 2022, the city council said.
Mr Graham, who has said he believes gay marriage is a sin, had planned to visit Sheffield as part of an eight-city tour of the UK.
Representatives of the city's LGBT+ community signed a protest letter, saying Mr Graham "has repeatedly publicly promoted his homophobic beliefs".
City councillors also wrote a cross-party letter to organisers warning the visit could lead to protests.
In January 2020, after discussions between Sheffield City Council and the arena operator Sheffield City Trust, the event was cancelled.
The Billy Graham Evangelistic Association (BGEA) later filed a legal claim for breach of contract.
A Sheffield City Council spokesperson revealed on Friday: "The parties are content that the dispute has been resolved and are content with the confidential terms agreed.  
"As part of that settlement, BGEA are entitled to hold their event in the Sheffield Arena and this event has been scheduled for May 25, 2022." 
Asked by the Local Democracy Reporting Service if a financial settlement was part of the action, the council said: "The parties have, with no admission of liability, agreed confidential terms for the settlement of the dispute."
The BGEA had previously issued a statement on its website saying: "BGEA has filed claims against parties in Sheffield that it believes were responsible for cancelling its legally-binding contracts."
It said there was no evidence that any event involving Mr Graham "has ever caused a danger to public safety or incited public disorder". 
"There is no question that [the cancellation] was done under pressure from those with opposing views," BGEA added.
"This disregard for principles of good faith and fair dealing, based on the mere suggestion that a person's sincerely-held religious views or statements are 'hateful' or would result in public disorder, should be very alarming to anyone who is genuinely concerned about diversity, inclusion and tolerance, let alone free speech and the free exercise of religious beliefs."
Related Internet Links
The BBC is not responsible for the content of external sites.