Roy 'Chubby' Brown: Sheffield cancellation sparks backlash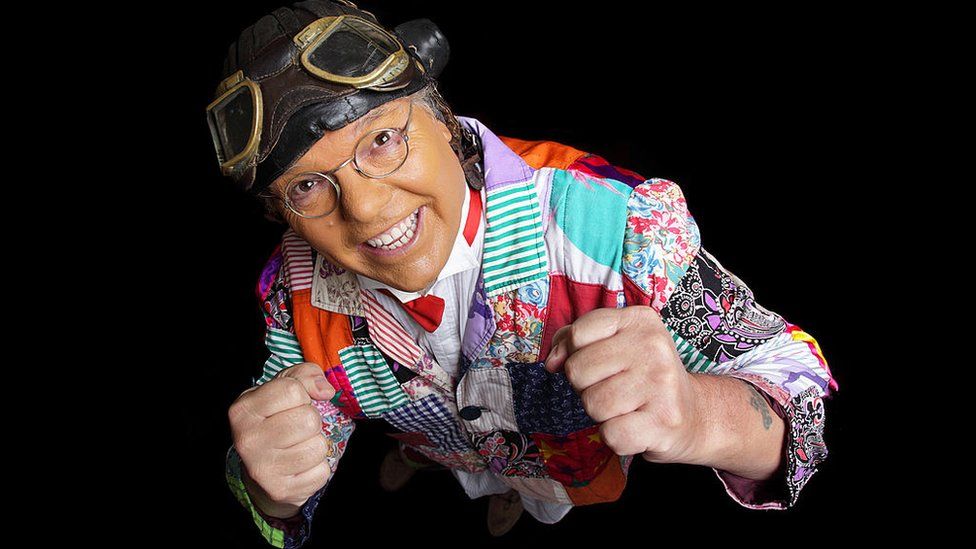 More than 28,000 people have signed a petition against the cancellation of a Roy "Chubby" Brown show.
The goggle-sporting stand-up comic, real name Royston Vasey, was to appear at Sheffield City Hall next year.
But supporters of the patchwork-jacketed "blue" humourist, who some feel is racist and sexist, reacted angrily when the show was pulled.
Sheffield City Trust chief Andrew Snelling said it was felt Brown's material did not reflect its values.
Mr Snelling said the not-for-profit organisation, which runs multiple sporting and leisure sites on the local council's behalf, would issue refunds.
He understood the decision would disappoint some but it was felt the show did not align with the trust's ambition to make its venues "inclusive for all", he added.
Sheffield City Council leader Terry Fox said the authority "wholeheartedly" supported the trust's decision.
All 300 ticket holders had been refunded for the event which was due to take place in the 2,373-capacity Oval Hall, the council said.
Hayley Madden, who set up the online petition, wrote: "Yes, some of the comedian's material may not be to everyone's taste but in my view it's simple, if you don't like, don't go watch."
One respondent argued that the trust "should be diverse enough to respect the wishes of those that wish to see Chubby".
Brown, 76, waded into the row himself with a lengthy Facebook post blaming those in authority and "not the good people of Sheffield" for the ban.
One commenter, who said Brown's material wasn't to his taste, added: "I won't be seeing you anytime soon but I absolutely respect your right to perform".
It is not the first time the stand-up has been embroiled in a number of rows over his shows, and venues in Swansea , Nottingham and other towns have cancelled his appearances.
In 2019, the boss of the Town Hall, in Brown's hometown of Middlesbrough, stood down when its mayor overturned a ban.
Brown, who lives in Lincolnshire, played Lincoln's New Theatre Royal on Saturday.
The petition's organisers have also said they plan to stage a protest against the ban outside Sheffield City Hall.
Related Internet Links
The BBC is not responsible for the content of external sites.