Intercity 125: Workers say farewell to British Rail icon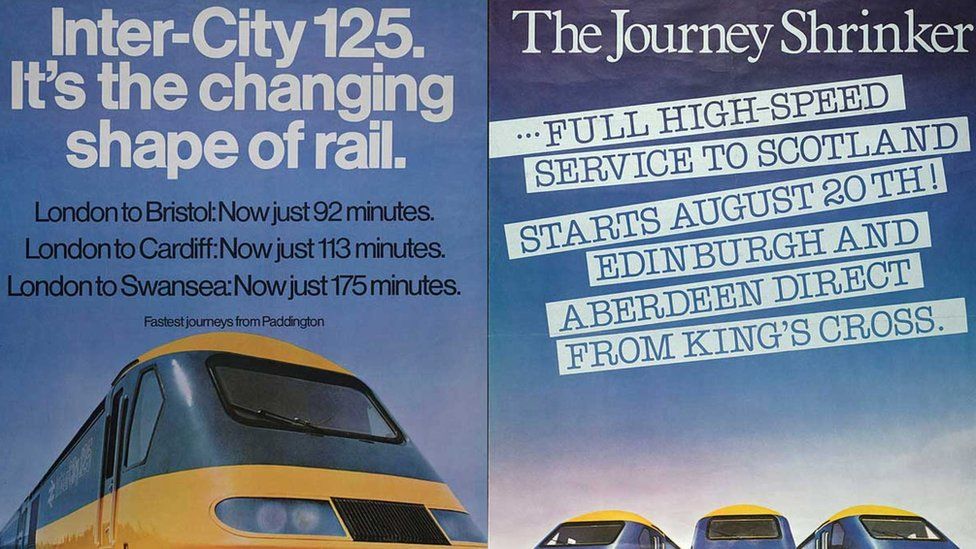 East Midlands Railway is the latest operator to retire its fleet of high speed trains - better known to millions as the InterCity 125. Some workers at the company's depot have spent most of their careers repairing, improving and tending to the engines, helping them to become a workhorse of the tracks since they came into service in 1976. But now it is time to say goodbye to an icon of Britain's travel network.
High speed trains (HST) were the future of British Rail in the 1970s, with advertisements promising unheard of speeds and shorter journey times.
Better known as the InterCity 125, the diesel locomotive was only intended as a stopgap before electrification, but has linked Britain's cities for more than four decades.
In the last 10 years, most rail companies have replaced them with newer models, and East Midlands Railway (EMR) is the latest to follow suit.
The company's HSTs are serviced and maintained at the Neville Hill depot in Leeds, where staff say they will be sorry to see the trains, described by some as the saviour of British Rail, go.
Maintenance fitter Simon Greaves, 59, says it has been a pleasure to work with HSTs for 30 years.
"They have served the railway fantastically well and they saved British Rail back in the 70s and 80s when they were in deep trouble," he says.
"They are a brilliant train, a fantastic icon, and a credit to the British engineers who came up with the design and built these brilliant trains. So it's been a pleasure for me to work on them for 31 years, it really has.
"On the whole they are extremely reliable and they have been modernised over the time as well. Lots of things have changed over the 40-odd years they have been in service.
"It's a shame really but technology moves on so they have to make way for new trains."
'Pinnacle of British Rail's expertise'
Fleet engineer Nigel Yule agrees: "They are just an iconic train to be honest.
"If you think about the achievements that were made in terms of the way it was built as a stopgap, designed in 20 months, it was the pinnacle of British Rail's engineering expertise.
"There's all sorts we've gone through, re-engining new cooling units, we've redesigned whole bits of the trailer car.
"If we think back 20 years ago what we were doing on servicing compared to what we do now it is totally different. We were bolting things back up on a nightly basis in some areas and we just don't now. We've engineered them out. We've put the things right and solved the problems.
"They are probably more reliable now than they ever were.
"They are a brilliant train. I don't believe there's a better train in this country even now, but obviously I am biased."
EMR quality inspector Paul Corrie, 63, says the HSTs' length of service is a testament to their quality and enduring appeal.
"I know them inside out," he says. "The measure of their success is the phenomenal mileage, the public persona of them, they've saved the railway and I don't think any other vehicle will get the amount of running mileage these vehicles have put in.
"They are old technology and the old girls do present some problems.
"Now and again we do get electrical faults. It is because of the age of the vehicles. Wires break down, wires snap off. Some are quick fixes, others can be a major headache.
"I've worked on these since 1981 and it will be a little strange walking into the shed without a HST there"
'Like nothing else on Earth'
The HST doesn't just inspire devotion among workers - it is also a firm favourite with enthusiasts, including Anthony Coulls, senior curator of rail transport & technology at York's National Railway Museum (NRM).
He credits the trains with changing the perception of rail travel in Britain, where steam locomotives were still in use less than 10 years earlier. HSTs were a complete contrast to the "scruffy, dirty and noisy" early diesel trains, he says.
"It was British Rail reinventing itself. They burst onto the scene looking like nothing else on Earth. It's hard to visualise 45 years on."
Mr Coulls says designer Sir Kenneth Grange's sleek blueprint, with an aerodynamic wedge-shaped nose cone, made the train "an absolute icon of engineering and design".
Because British Rail could not afford full electrification, no-one expected the trains to remain in operation for so many decades, he says.
Their speed and significantly reduced journey times helped to change the "look of the commute", Mr Coulls says, making it practical for people to live further outside London and travel to work by train.
The HSTs were all built between 1976 and 1982 and, unlike other famous models such as the French TGV and the Japanese Shinkansen [bullet train], the power cars at the front are the originals.
"It is actually the most successful passenger train in the world ever," Mr Coulls adds.
A diesel-powered high-speed passenger train built by British Rail between 1975 and 1982
It could run at speeds of up to 125 mph (201 km/h) hence its 125 name
The distinctive wedge-shaped nose cone was designed by Sir Kenneth Grange
Holds the world record for the fastest diesel-powered train carrying passengers reaching a speed of 148 mph (238 km/h) in November 1987
On the East Coast Mainline it cut the journey time between London and Edinburgh by an hour
InterCity rail travel was heavily promoted with TV and print adverts in the 1980s - including the famous "This is the age of the train" adverts.
EMR's fleet director Neil Bamford began his career just three years after the HST launched. He accepts that the trains have to go, but says it does "bring a tear to the eye".
"The HST is a fantastic machine. My career, which is now 43 years, is almost parallel with the HST fleet. HST came in on my birthday in 1976 so they are only a little bit older than when I started in 1979."
"In 1981 I remember going on test and commissioning runs from Derby where the trailer cars were built. The power cars were built in Crewe. Then we went up to Darlington and put it through its paces at 125 mph between York and Darlington on a flat bit of straight, fast track. I remember that vividly as an 18/19 year old.
"Throughout my career I've been in and out of HSTs and I love them.
"I just think the interior, the ride of this fleet is fantastic. The window spacing and seats is fantastic, the seats are comfy. It's just part of the railway.
"It's a big miss for the industry, because there's a lot of people, probably more so of my generation... the railway without HSTs, you can't think of it.
"They've got to go because they aren't quite up to modern standards in terms of accessibility for passengers and they still discharge effluent onto the track.
"So the trains have to retire graciously."
ScotRail, Great Western Railway and Cross Country still have HSTs in operation on some routes.
Related Internet Links
The BBC is not responsible for the content of external sites.