Rotherham: Large Tory gains in council all-out election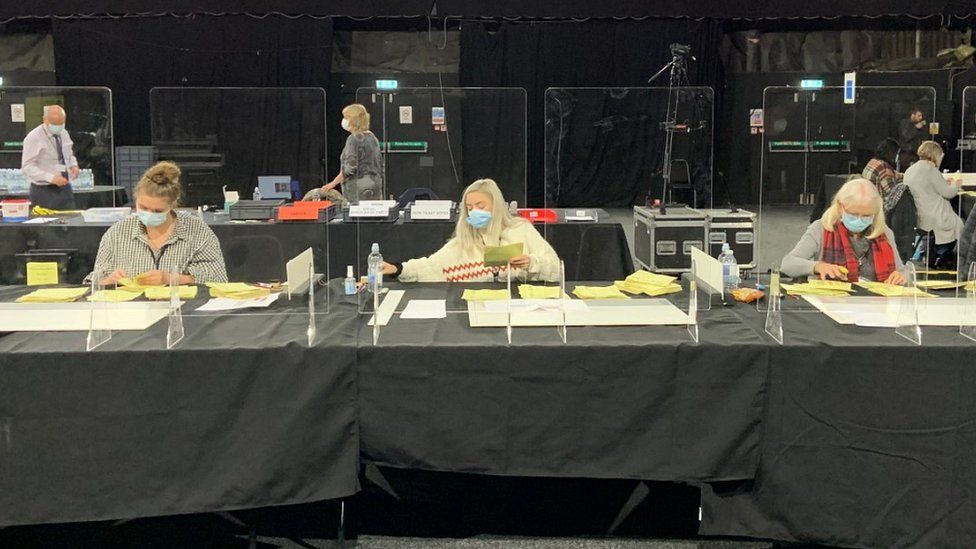 The Conservatives made huge local election gains at Rotherham Council, with Labour retaining overall control.
All council seats were being competed over for the first time in five years, with the Tories jumping from zero councillors to 20.
Labour dropped to 32 seats, with the Liberal Democrats and the Rotherham Democratic Party left with three each.
After a boundary review, council seats were reduced from 63 to 59, with the number of wards going up from 21 to 25.
Speaking at the count at the Magna Science Adventure Centre, Emily Barley, newly-elected Conservative councillor for the Hoober ward, put the party's success down to their "incredible team".
"For decades Labour has taken communities in this area for granted, they've felt neglected and left behind," she said.
"[This] puts us in a strong position as main opposition, we'll be focusing on scrutiny and really holding Labour to account and making sure the people of Rotherham are getting the services they deserve."
Pretty incredible. I've never seen a party come from 0 councillors to 20 in the space of one election. The Conservative vote in Rotherham is one of the big stories of this election.
A couple of caveats. This wasn't a normal election. Yes, we know that, but in Rotherham it was different again. The boundaries have been changed - there are now fewer councillors; 59 instead of 63. But, there are more wards.
So this was like a fresh election, which makes comparison hard.
The opposition before was mainly made up by the Rotherham Democratic Party. That's changed now. Labour has fewer councillors than they did, but they still retain control.
The Conservatives now have a much stronger voice as the main opposition in the town hall.
John Healey, Labour MP for Wentworth and Dearne, called it a "really tough election" for the party.
He said: "It isn't just about our worst general election result for nearly 100 years in 2019 but a long-term trend where there's been too greater dislocation between the world of politics - including our national party - from many working people in areas like South Yorkshire.
"That's the big task, to rebuilt the confidence of people in areas like Rotherham in Labour as a government of this country again."
Related Internet Links
The BBC is not responsible for the content of external sites.