Election 2021: Sheffield City Council moves to no overall control as leader ousted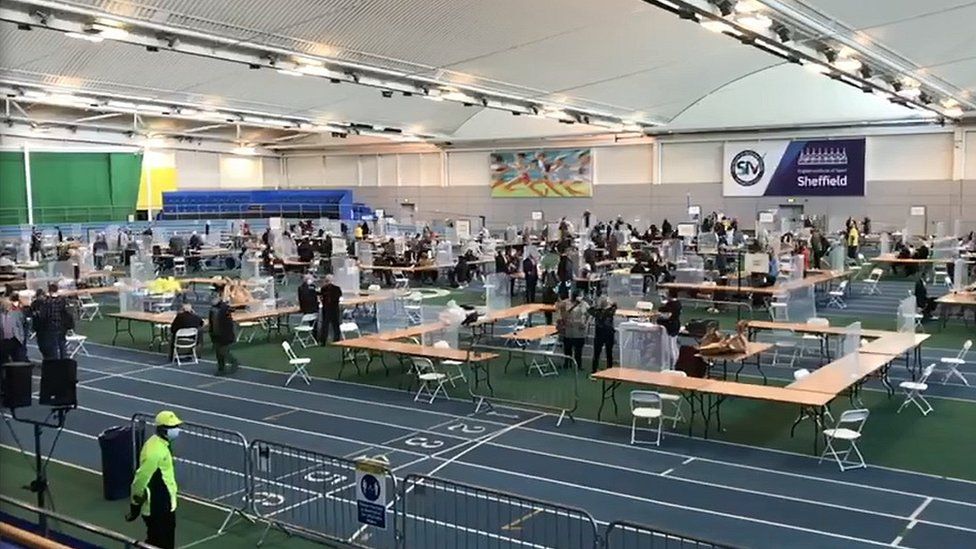 Sheffield City Council's leader has lost his seat in a major local election blow for Labour, with the council now in no overall control.
Bob Johnson, who only recently became council leader, lost his Hillsborough seat to the Green Party.
Labour lost eight seats in total, with the Green Party and the Liberal Democrats making gains.
There was drama at the Barnsley Council count as a Labour candidate retained her seat by winning a coin toss.
The Conservatives won Sheffield City Council's Stocksbridge seat, with Lewis Chinchen becoming the city's first Tory councillor since 2007.
The votes were counted at the English Institute of Sport, where staff sat behind protective screens spread out across the athletics track and basketball courts.
The first Labour loss of the day came in Beighton, with the Lib Dems picking up the seat.
But the biggest shock came when Mr Johnson lost his seat to Christine Gilligan Kubo, who received 2,337 votes to his 2,013.
The result means, while Labour remains the largest party on the council with 41 seats, they are two short of a majority.
Labour councillor Terry Fox said there had been some "very surprising results".
"It's not been our best day, I think we can admit that. We're going to go away and regroup and then we'll come back fighting again tomorrow," he said.
"We're just going to take some time tonight and think through what's happened."
Meanwhile Green Party leader Douglas Johnson, who retained his seat, said the five seats gained by his party was a "fantastic outcome".
We knew Labour needed to lose seven seats to lose overall control of Sheffield City Council.
Not many thought it was that likely, but it has just happened. So who teams up to run the council now?
Sheffield's new lone Conservative councillor Lewis Chinchen may find himself very popular indeed.
The Lib Dems and Greens together can only get to 42 councillors - one short of a majority.
Labour are only on 41 councillors at the moment. They need one councillor on their side to deny others a majority.
Now there are a few combinations of parties that would get a coalition over the majority line.
Keep your phone on councillor Chinchen!
In Barnsley, Labour lost just one seat of the 18 they were defending with council leader Sir Steve Houghton coming out on top in his Cudworth ward. The Liberal Democrats gained a total of three seats while the Conservatives defended their Penistone East ward successfully.
Labour Party candidate Nicola Sumner retained her seat in the Rockingham ward after winning a coin toss after two candidates tied on 1,084 votes each.
The DRAMA coming out of Barnsley - Labour's Nicola Sumner has held the Rockingham ward BY A COIN TOSS after tying with Conservative candidate Roy Garratt

— Danielle Andrews (@DanielleAndrew8) May 7, 2021
The 63-seat council now has 49 Labour councillors, seven Lib Dems, four independents and three Conservatives.
It was a similar scenario in neighbouring Doncaster which remained resolutely red after the votes for 21 wards were tallied at the town's famous racecourse
The Labour Party contested all 55 seats winning 40 - one more than last time - while the Conservatives gained four councillors, taking their total to 11.
Local groups Mexborough First and Edlington First won three and one seats respectively but the Greens and Yorkshire Party lost their only councillors while independents lost a total of three seats.
The Conservatives made huge gains at Rotherham Council, with Labour retaining overall control.
All council seats were being competed over for the first time in five years, with the Tories jumping from zero councillors to 20.
The result of the election for South Yorkshire's police and crime commissioner will be announced on Monday.
Related Internet Links
The BBC is not responsible for the content of external sites.