Hillsborough Stadium: Sheffield Wednesday issued with safety order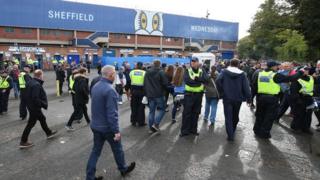 Sheffield Wednesday has been told to change how it manages supporters after safety concerns outside the Leppings Lane end of Hillsborough Stadium.
A prohibition notice orders the club to stop home fans being released from the north and south stands on to the forecourt at the stadium's west end.
Problems at that end, where away supporters leave, led to the Hillsborough disaster 30 years ago.
The club apologised to fans "for any inconvenience caused" by the measures.
Concerns were raised following crowd trouble at the derby fixture between Sheffield Wednesday and Sheffield United in March.
Sheffield City Council said it had been talking to the club and South Yorkshire Police, with the move made ahead of another local derby on Saturday, when Barnsley are due at Hillsborough.
Steve Lonnia, chair of the council's safety advisory group, said: "Following the submission of a report commissioned by South Yorkshire Police that highlighted issues with regards to public safety on the Leppings Lane forecourt, the council and police have worked very closely with Sheffield Wednesday to resolve these issues.
"Due to the evidence presented in the report, we immediately requested that the club submit proposals to deal with the issues raised.
"A prohibition notice has been served that means there will be no access or egress from the north and south stands on to the Leppings Lane forecourt for home supporters."
In a statement, Sheffield Wednesday said: "Supporters can be assured that we are working diligently to resolve this matter and are fully committed to defending our position using all available legal routes in order for the prohibition notice to be lifted at the earliest opportunity.
"We have worked around the clock with the EFL to ensure that Saturday's game goes ahead in full accordance with the prohibition notice.
"The club notes the criminal offence nature of such a notice served and the ramifications of a failure to comply."
South Yorkshire Police said: "We received the proposals from the club to address the concerns ahead of tomorrow's match, at 10:00 BST this [Friday] morning.
"We will work in partnership, in the time now available, to seek a positive outcome but our priority will always remain public safety."
Follow BBC Yorkshire on Facebook, Twitter and Instagram. Send your story ideas to yorkslincs.news@bbc.co.uk.