Brierley crash: Passenger had 'no concerns' over lorry driver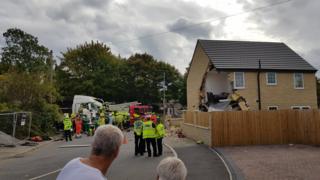 A passenger in a stolen lorry which knocked down and killed a pedestrian said he had "no concerns" about the way it was driven prior to the collision.
Jacqueline Wileman, 58, was struck while she was out walking in Brierley, near Barnsley, in September 2018.
Sheffield Crown Court heard the lorry had been stolen by rear passenger David Mellor three days before the crash.
Mr Mellor, 48, from Worsbrough Dale, and two other men deny causing Mrs Wileman's death by dangerous driving.
Giving evidence, Mr Mellor said he had taken the tractor unit on 11 September as he had been "having trouble getting his wages" from his employer.
He said he had spent the next few days at co-defendant Alan Mawhinney's house drinking and taking drugs.
On the morning of 14 September, he said he woke up feeling "drunk and groggy" and went to sleep in the back of the vehicle.
He said Mr Mawhinney, 53, and 23-year-old Karn Hill got in the vehicle later, with Hill in the driver's sear.
Mr Mellor said he had "no problem" with Hill driving as he had seen him driving "bigger trucks" before.
The men then drove to Grimethorpe to collect Hill's friend, Wayne Carroll, 29.
Asked about witnesses who described seeing the lorry being driven badly, Mr Mellor said "there were no manoeuvres that I was concerned about".
The court heard that as the lorry approached Brierley a police car began following it.
Mr Mellor said he was aware of the vehicle and told Hill to stop but he ignored him.
Moments later, the lorry lost control and struck a number of parked cars and Mrs Wileman before careering into the side of a house.
Asked by his barrister Robert Woodcock QC how he felt about Mrs Wileman's death, Mr Mellor said "it upsets me to think about it".
Mr Mellor, of Bank End Road, Mr Carroll, of Chestnut Street, Grimethorpe, and Mr Mawhinney, of Calder Crescent, Kendray, all deny causing death by dangerous driving.
Mr Mellor and Mr Mawhinney have both admitted a charge of aggravated vehicle taking. Mr Carroll denies the same offence.
Hill, of East View, Cudworth, has admitted causing death by dangerous driving.
The trial continues.