Doncaster police pursuit crash suspect, 15, charged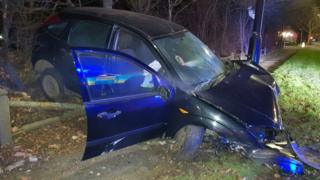 A 15-year-old boy was arrested after a high-speed police pursuit that ended in a crash in Doncaster.
The Ford Focus reached speeds of 90mph (145km/h) on Leger Way on Tuesday night before hitting a lamppost and fence.
"The driver climbed out and tried running off. Turned out he was only 15 years old ... absolutely unbelievable," police said in a Facebook post.
The boy, who was not injured, was later charged with five offences and is to appear in youth court on 31 January.
The teenager, who cannot be named for legal reasons, was charged with dangerous driving, failing to stop, driving without a licence and theft of a motor vehicle, South Yorkshire Police said.