Sheffield burger restaurant closes amid offensive menu complaints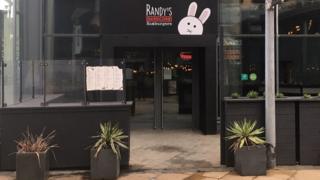 A restaurant that had offensively named burgers on its menu has closed.
Randy's Hardcore Hamburgers propagated a "toxic culture" in listing "Weinstein" and "Ca$ting COuch" burgers, Sheffield City Council said.
The restaurant, in the West One development, had previously apologised after complaints about its menu.
But now its landlord, Devonshire Green (Commercial Properties) Limited, closed the restaurant citing non-payment of rent.
Sheffield Council had asked the restaurant to remove other burger names including "Fake Taxi" and "Ca$ting C0uch", and warned it would take action.
Coun Jack Scott, cabinet member for development, said in a letter: "These items demonstrably glamorise non-consensual sexual acts and in doing so, they propagate a toxic culture which objectifies women.
"Bluntly, the names of these items are not acceptable."
He said the council had received "numerous complaints" about items listed on the menu.
The restaurant previously apologised on Facebook over its burger named "The Weinstein".
The Gazette official public record confirmed Voip Communications International Limited, who are named in the legal notice, were subject to a winding up order on 24 October.