Sheffield to host first UK Spice conference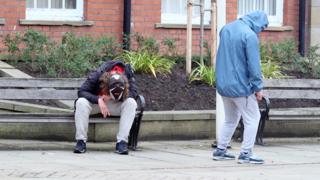 The UK's first national conference aimed at tackling the use of so-called zombie drug Spice is set to take place later in Sheffield.
About 120 people, including health care professionals, police officers, and charity workers are due to attend.
In 2017 the drug led to 24 deaths and it has been called the "most severe public health issue in decades".
Det Ch Insp Paul Wilson said the aim was to share best practice and draw up new guidelines for helping users.
Spice, a former "legal high", is a type of synthetic cannabis that can have severe debilitating effects and leave those who take it in a zombie-like state.
The conference has been organised by South Yorkshire Police as part of its role in leading the National Problem Solving Team.
Mr Wilson said he believed it was the drug's "visibility factor" that had brought it to the public attention, with regular sightings of users slumped over on the streets.
He said: "That situation is being replayed up and down Britain in our towns and cities.
"So there's a huge appetite from professional agencies to come together to discuss that, share their experiences nationally and, through doing that, identify individual pockets of best practice and share that.
"We hope to be able to provide some clarity and reassurance to agencies in terms of how best to work with people and to support them."
Stuart Green, from Aspire Drug and Alcohol Services, in Doncaster, is among those taking part in the conference.
He said: "I think we've got to take a different viewpoint about how we're treating addiction in society and now we've got the right people around the table to start looking at it and actually treat it as a health condition."
A Home Office spokesman said action had been taken by the government to combat the "devastating" impact of Spice and other synthetic cannabinoids, including classifying them as Class B drugs.
He said: "But we know there is more to do and our drug strategy brings together police, health, community and global partners to tackle the illicit drug trade and help those with a drug dependency to recover and turn their lives around."