National Videogame Museum reopens in Sheffield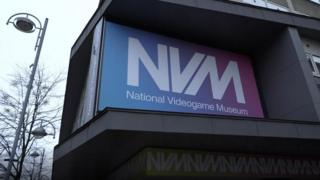 The UK's only videogame museum has opened at its new base in Sheffield.
The National Videogame Museum features dozens of playable consoles and arcade machines with classics such as Space Invaders and PacMan.
It was previously based in Nottingham but closed because the building had become too hard to maintain.
To coincide with the opening, it is showcasing a selection of titles made in Sheffield including Snake Pass, Monty Mole and Gang Beasts.
It is hoped the museum, which celebrates videogame culture, will attract some 50,000 people to the city every year.
It allows people of all ages to play, learn and have a go at sharing their own ideas.
The museum's patron Ian Livingstone, who helped launch the Lara Croft franchise, said it was hoped it would inspire future generations.
"People will be able to experience games for fun but also understand the cultural impact of games," he said.
"The gaming industry is the largest entertainment industry in the world."
Director Iain Simons said: "Videogames are a whole spectrum of different things - they're about music, they're about writing, they're about lots of things as well as cowboys and football.
"The games industry in Sheffield is particularly rich and we can plug into that."
The institution was close to folding in 2016, a year after opening, when the business ran out of money but new investment meant it was able to continue.