Ladywood Primary strike: School dog 'a waste of money' says union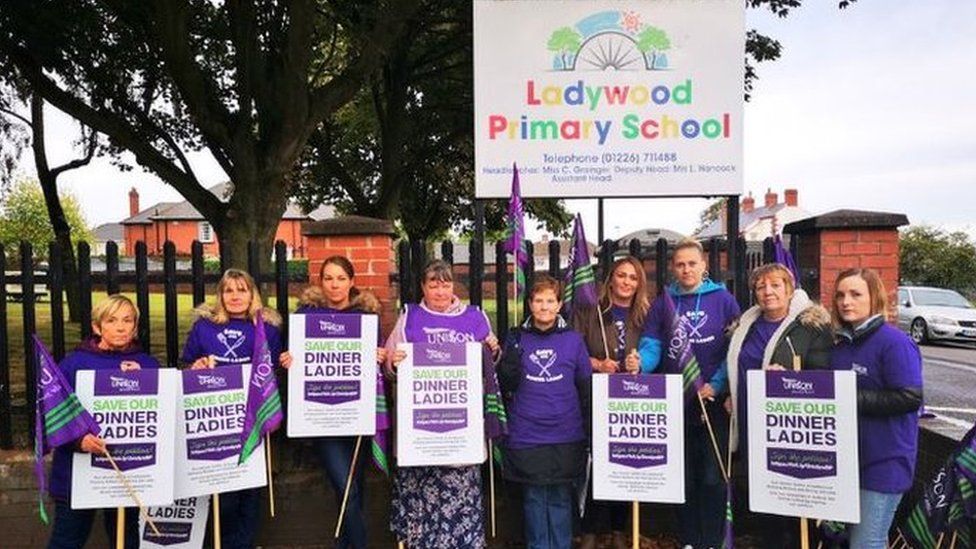 A school at the centre of a row over plans to make nine dinner ladies redundant has been criticised for spending £2,000 on a school dog.
Union representatives said Ladywood Primary School's decision to fund the dog was "a waste of money" and "an insult" to those facing redundancy.
The school declined to comment on the issue but said talks were ongoing.
According to a Freedom of Information request submitted by trade union Unison, the school has spent £2,170 training the animal to date.
The dog is used to provide a calming influence for children while some pupils find it easier to read to a dog as they are non-judgemental.
Jordan Stapleton, area organiser for Unison, said: "I think it is an insult to the dinner ladies that have been there for generations that they are spending thousands training the head teacher's dog."
Industrial action began in September after the school put forward plans to make all nine school meals supervisory assistant roles redundant.
Speaking at the time, head teacher Clare Grainger said the school was "facing a significant budget shortfall for 2019/2020" and had been forced to "review our staffing structure".
Mr Stapleton said: "If the budget is being squeezed they need to look at all elements of expenditure and I think the dog, while it may have a benefit, seems a luxury and a waste of money."
The union said the school needed to save about £30,000 but since strike action began had taken on two teaching assistants on permanent contracts and was looking to appoint new teaching staff.
Dinner ladies at the school are paid between £2,000 and £2,500 per year.
A spokeswoman for the school said: "We are still in consultation with the unions and have nothing further to add at this time."
Related Internet Links
The BBC is not responsible for the content of external sites.