Sheffield tree felling: City's memorial trees to be saved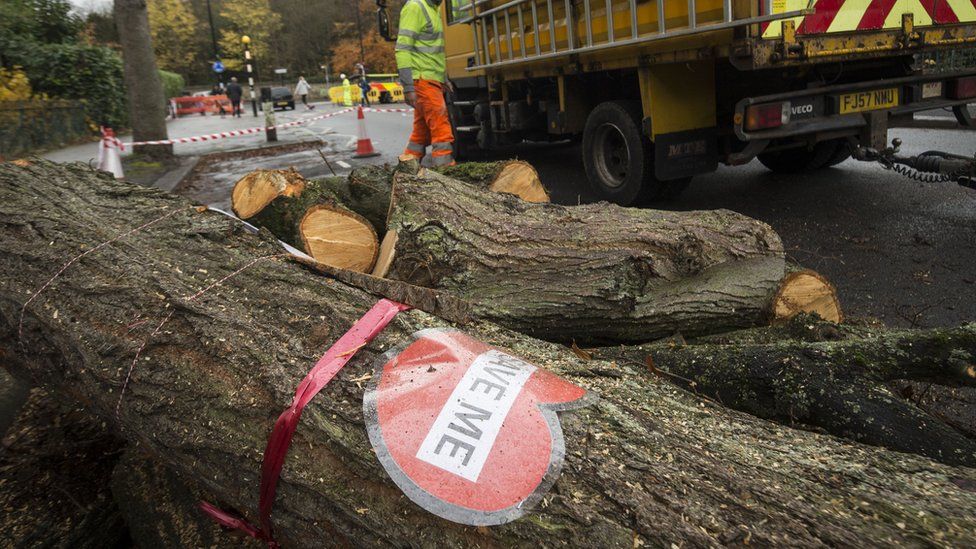 Dozens of trees planted in honour of fallen World War One soldiers are to be saved from being cut down.
The 32 trees in Sheffield, including 20 on Western Road, were among 41 memorial trees earmarked for felling and replacement, despite being healthy.
Councillors voted in December 2017 to remove the trees after estimating it would cost £500,000 to save them.
However, the council said an agreement had been reached with contractor Amey to retain the majority of the trees.
Green Party Councillor Alison Teal described the announcement as a "victory for common sense".
Of the 41 trees under threat six have already been felled and three will be removed as they are decaying.
The trees on Western Road are a designated war memorial and were planted in 1919 in memory of pupils at a nearby school who died fighting in WWI.
The other trees are on Tay Street, Oxford Street, Binfield Road, Springvale Road and Heathfield Road.
Councillor Lewis Dagnall, cabinet member for Environment and Streetscene, said: "In this, the week of Remembrance Day, I am confirming that we have developed a plan to retain 32 of the 35 war memorial trees that were originally earmarked for replacement.
"Amey have agreed to fund the costs of delivering this new agreement, and there will be no additional cost to public money."
Since 2012, about 5,500 trees have been cut down under the city council's felling and replacement contract aimed at improving roads and footpaths.
The trees have been assessed as either dangerous, dead, diseased, dying, damaging or discriminatory.
However, campaigners say many of the trees classed as damaging or discriminatory are healthy specimens which should not be cut down.
The dispute led to a number of protests resulting in the authority announcing a pause in the programme earlier this year.
Paul Brooke, of Sheffield Tree Action Group (Stag), said: "This is a huge victory for local campaigners, many of whom have campaigned for more than three years."
Sheffield City Council has previously announced plans to plant 300 war memorial trees in the city's parks.
Related Internet Links
The BBC is not responsible for the content of external sites.