Sheffield-Rotherham tram-train crashes after being hit by lorry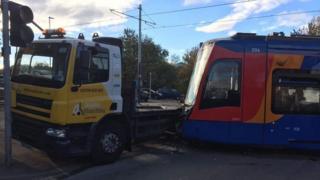 A tram-train was derailed on its first day of service after a crash with a lorry in Sheffield.
South Yorkshire Fire and Rescue Service said the crash on Staniforth Road happened shortly before 15:30 BST.
There were no reports of anyone trapped but some passengers on the tram-train suffered minor injuries, the fire service said.
The tram-trains run on the rail network and tram tracks between Sheffield and Rotherham.
Read more news from across Yorkshire
The service was supposed to be up and running two years ago and has faced criticism after costs spiralled from £15m to £75m.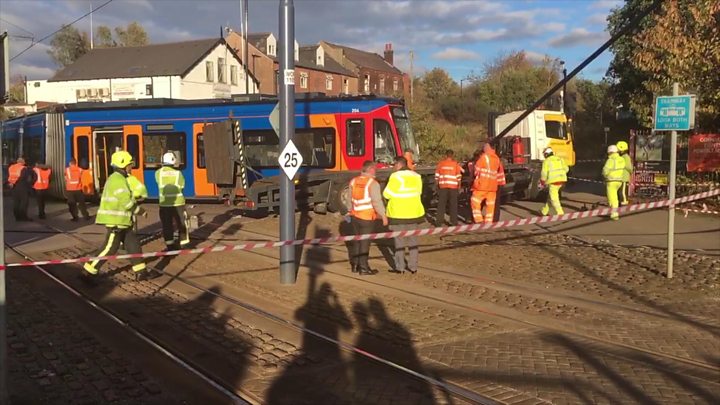 Steve Barber, 63, from Nottingham, who is vice-president of the Light Transit Association, was travelling on the new tram-train when the crash happened.
He said: "It [the lorry] just appeared in front of me.
"We bounced off the rails, went into the air, and then crashed into the ground. It's a complete wreck, staff were crying."
According to the Yorkshire Ambulance Service (YAS), three people were injured. One person was taken to hospital with minor injuries, while two were treated at the scene.
Passengers said the tram-train was travelling at about 20mph when it collided with the lorry.
The BBC understands it was operating on a tram line not a rail line.
Stagecoach Supertram said tram services in the area had been "currently suspended".
"We are assisting police with their inquiries into the circumstances," a spokeswoman said.
She told customers to check its website and social media feeds for the latest updates.
Depending on its success, the tram-train service could continue running after the end of the two-year trial.
The government-funded project, which was approved in 2012 and run by Network Rail, aims to test the costs and "operational issues" of the tram-train technology with a view to it being rolled out elsewhere.
But the scheme has been criticised, with a report last year stating it had been plagued with "unacceptable increases and delays" and questioned its value for taxpayers.
The tram-trains will travel on the Supertram network from Sheffield Cathedral to Meadowhall South before proceeding over a new section of track linking the tram line to the rail track called Tinsley Chord.
The service will then go on to the national rail network to Parkgate Retail Centre via Rotherham Central station.