Barnsley robbery suspect e-fit mocked on social media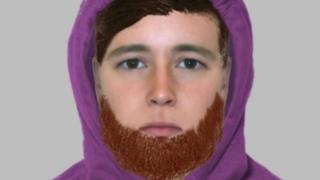 An e-fit image of a robbery suspect that has attracted derision on social media has been defended by police.
They issued the image of the man which depicted him as having black hair - but a cropped ginger beard and no moustache.
The suspect, who was wearing a purple hoodie, was said to have a Barnsley accent and to be about 5ft 4in tall.
He pulled out a knife and threatened a shopkeeper in the town, police said.
The e-fit has been mocked by various Twitter users, with one poster likening the image to characters in the film The Life of Brian.
And some posters drew likenesses with other images of "bearded" people.
Police said the man fled empty-handed from the off-licence on Station Road, Royston, on 21 September.
The force said it stood by the e-fit, which was composed with the help of the victim who is said to have been left distressed by the attempted robbery.
Anyone with information is asked to contact the South Yorkshire force.
You might also like: