Sheffield memorial to gas explosion deaths unveiled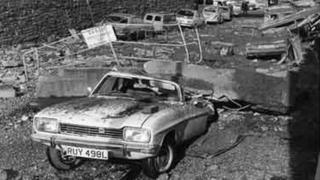 A plaque has been unveiled to commemorate workers who died in an explosion at a gasworks 45 years ago.
Six men died and others were injured at the gasworks on Effingham Street, Sheffield, on 24 October 1973.
The memorial to William Donaldson, Cyril Kennedy, John Lomas, Patrick Sleight, Harry Smith and Harry Wilson has been placed at the site.
The explosion was in a disused petroleum tank in which gas had been stored below ground level.
A group of men was working on the tank as it was been converted to store diesel, according to contemporary reports.
Jean Taylor, from a retired employees association, unveiled the plaque at an event attended by relatives of those who died or who were affected by the explosion.
The memorial plaque has been placed next to an existing war memorial within the Effingham Street site.
More stories from across Yorkshire
Hannah White from National Grid said: "It's fitting that as we mark the end of the gasholders in the area we commemorate the people who lost their lives and who were injured at the gasworks."
National Grid has started dismantling the last remaining gasholder in an area associated with gas production and storage since the early 1800s.