Driverless car terror attack accused to face retrial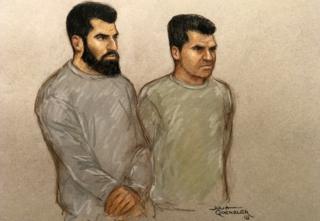 Two men accused of attempting to manufacture a remote-controlled explosive device are to face a retrial after jurors failed to reach a verdict.
A Sheffield Crown Court jury deliberated for almost 17 hours on the case of Andy Star and Farhad Salah.
Both men denied preparing to commit acts of terrorism.
After the foreman told Judge Paul Watson QC jurors had been unable to reach a verdict, the court heard prosecutors would seek a fresh trial.
During the four-week trial, jurors were told Mr Star, 32, and Mr Salah, 23, worked on the device above Mr Star's chip shop in Chesterfield.
Prosecutors said the pair, both Iraqi-Kurds, had hoped to cause harm to "infidels" with the weapon, which they intended to place within a driverless car so they did not have to martyr themselves.