Grimethorpe primary school dinner ladies go on permanent strike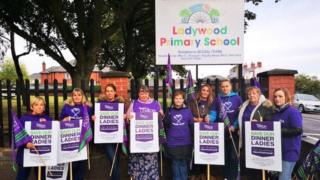 Dinner ladies have gone on permanent strike in a dispute over plans to axe their jobs.
Ladywood Primary School, in Grimethorpe, South Yorkshire, has proposed that teaching assistants would supervise meals to save cash.
It wants to make all nine school meals supervisory assistant roles redundant which has resulted in six days of strikes by Unison union members.
The school did not want to comment on the escalation of strike action.
But a Barnsley Council spokesperson said "no viable proposals" had been put forward by the unions at a meeting on Wednesday.
Teaching assistants and support staff at the school were also taking action short of a strike by not covering the dinner ladies' work, the union said.
Head teacher Clare Grainger previously said it was "facing a significant budget shortfall for 2019-2020".
The school had to review its staffing and "this is a difficult time for those involved", she said.
Robin Symonds, the union's regional organiser, said: "Unison has highlighted a number of areas where we believe the school could make the necessary savings without making any redundancies."
He said the union had offered to suspend industrial action for a review of the staffing structure but the school had refused.
The union was "keen to resolve the dispute" and had suggested further talks with an independent arbitrator, Mr Symonds said.
The school and council are due to hold a consultation meeting with the employees next week and "it would be inappropriate to comment further at this stage", the council added.