Hip-hop artist Otis Mensah to be Sheffield's first poet laureate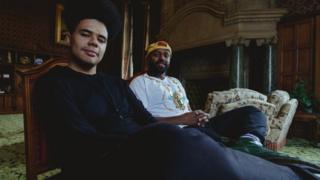 A hip-hop artist who has appeared at Glastonbury will become Sheffield's first poet laureate.
Otis Mensah will be formally appointed to the role by the city's mayor Magid Magid during an annual literature festival.
The Sheffield-born performer, who has supported the likes of Wu-Tang Clan and The Sugarhill Gang, said he hopes to break down barriers during his term.
He will take on the honorary position for two years.
"When I found out, I was pleasantly surprised to be asked to take on the role," Otis said.
"I found it interesting that an aspiring experimental, hip-hop artist could be considered for such a formal position."
More news and stories from Yorkshire
The rapper, who describes himself as a "young story-teller-rapper-poet", said he also hopes to break down the perception of what it means to be a poet and encourage others to express themselves.
"I feel the term poetry often creates a certain image in people's minds, painting the picture of snobbery, under the impression that it's an elitist, whitewashed art form.
"But I believe poetry at its core is about communicating imperative messages of emotion."
The official announcement will be made on Saturday as part of the three-week Off the Shelf Festival, according to the Local Democracy Reporting Service.
Mr Magid said: "Otis represents all that is great about Sheffield, he's dynamic, skilful and radical."
He added: "Sheffield has always had a rich history of poetry and what better way to celebrate and support the amazing poetry scene than to appoint a poet laureate."