Sheffield student's MDMA death: Dealers plead guilty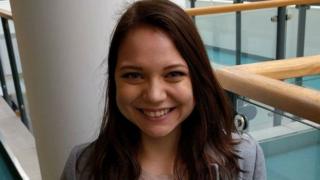 A drug dealer and her supplier have admitted supplying MDMA to a university student who died.
Joana Burns, 22, died after taking the Class A drug also known as ecstasy on a night out in Sheffield to celebrate finishing her maths degree in 2017.
Katherine Lavin, 21, pleaded guilty to supplying her friend with the drug. Benjamin Williams, 25, admitted supplying it to Lavin.
The pair are due to be sentenced at Sheffield Crown Court on 12 October.
Lavin, of Kentmoor Close, Stockport, admitted supplying a controlled Class A drug and possession of cannabis.
Williams, of Melbourne Road, Sheffield, pleaded guilty to supplying a controlled Class A drug.
On the night she died, on 6 June, Miss Burns had gone out with friends, including Lavin, at Sheffield University Students' Union.
Yorkshire breaking news: City Uber drivers protest over pay; Water quality tests delay fracking start
The Sheffield Hallam University student, who was originally from Alfreton, was at The Foundry when she collapsed.
As he adjourned the case for pre-sentence reports, Judge Jeremy Richardson QC told Lavin and Williams they could face custodial terms
"These are serious matters. All sentencing options remain open and that includes being sent to prison," he said.
But Miss Burns' mother, Mosca, said she did not want either of them to be jailed.
"There are no winners today," she said. "Nothing will bring back my Joana."
Speaking at a Sheffield Hallam University workshop aimed at encouraging girls to study maths, Miss Burns' mother said she hoped her daughter's legacy would be in "inspiring girls, not a drugs death".
In May, an inquest heard Lavin bought the ecstasy in powder form, which the friends made into "bombs" using cigarette paper.
A South Yorkshire Police report found they each paid £7 for the drug.
Miss Burns was said to have taken the drug willingly before the club night, and then took another in the early hours.
Witnesses said she vomited the second "bomb" straight back up before having a seizure, resulting in her being taken to hospital.
The coroner concluded her death was caused by misadventure.