Sheffield Wednesday accept BBC commentary deal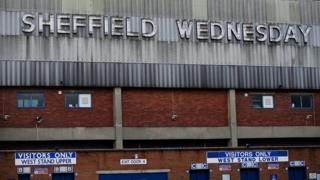 Sheffield Wednesday fans will continue to be able to hear live coverage of their side's matches on the BBC after the club accepted a new deal.
The Owls had initially rejected a new commentary deal in August after being asked to take a 10% reduction in fees.
But, following negotiations, the club said it had agreed "a deal to the satisfaction of both parties".
It means BBC Radio Sheffield will provide exclusive commentary of all away games and select home games.
Katrina Bunker, editor of BBC Radio Sheffield, said: "Following the announcement last month that a deal hadn't been reached it was clear that many fans and listeners were disappointed.
"Our conversations with Sheffield Wednesday have continued since then and I'm delighted that we have agreed a deal."
The Owls were the only one of 62 clubs whose deals were up for renewal at the start of the season not to reach an agreement.
It said at the time the offer made by the BBC was "significantly less" than in previous years and "despite our best efforts to seek a renewal on the same terms, agreement could not be reached".
However, in a statement released by the club earlier it said it was "pleased" to have come to an agreement.
BBC Radio Sheffield will resume its coverage with Wednesday's away game at Nottingham Forest on 19 September.