Scandal-hit Rotherham Council spent £16m on agency staff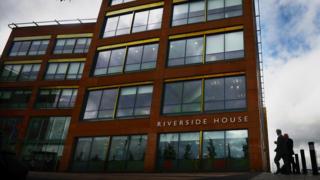 More than £16m was spent on agency social work staff by Rotherham Council in the wake of the 2014 Jay Report into child sexual exploitation in the town.
Figures obtained by the BBC show its annual spend, which was £1.5m in 2014/15, peaked in 2016/17 at £6.5m.
The report said 1,400 girls were abused from 1997 to 2013, with a second saying the council was "not fit for purpose".
Council leader Chris Read said: "Failing services are expensive and we've paid the price for that."
Yorkshire breaking news: Three in hospital after lorry crashes into house; Bin workers to go on 'indefinite' strike
Details of the spending were obtained as the council prepares to regain control of its children's services from government for the first time since 2015.
Mr Read said the spending, a significant amount of which was met by reserve funds, was the result of the need to bring in "a lot of high quality staff very quickly".
Ailsa Barr, the council's acting assistant director of children's safeguarding, was working for the authority when Professor Alexis Jay's report was published.
She said that in 2014 each social worker was dealing with between 30 and 40 cases while the average is now 17.
She said it was a "poor quality environment for people to practise in" and staff felt "completely powerless".
"In 2014, everyone was working very hard but it was incredibly difficult to feel like you were making the progress you needed to make," she said.
"I was sad, angry and upset because I felt I had let the children of the borough and their families down."
She feels that the department is now in a "much better state".
A recent Ofsted inspection of the authority's children's services rated it as good, and Mr Read said he was "hugely proud" of the turnaround in the department.
He said he hoped that in the next few months the department would not be dependent on agency social workers "at all".
He said: "As far as you can, and you can never give an absolute guarantee of course, we are keeping children as safe as we can and certainly we are keeping them much safer that they were three or four years ago."