Sepsis death in Doncaster hospital prompts mother to speak out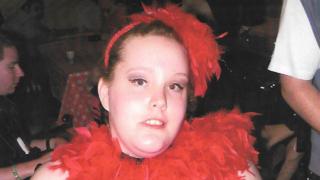 The mother of a 26-year-old woman whose death from sepsis was "avoidable" is speaking out to prevent more deaths.
Anna Hemmings died in Doncaster Royal Infirmary in October 2015.
An investigation by the Parliamentary and Health Service Ombudsman (PHSO) has found staff did not diagnose and treat the sepsis quickly enough, and she died as a result.
Anna's mother, Katie Hemmings, urged patients to speak out to medical staff if they have sepsis symptoms.
Yorkshire breaking news: Two in court over city bank attacks; More compensation for Northern passengers
Miss Hemmings, who had spina bifida, hydrocephalus and was partially sighted, was suffering from a chest infection, a urinary tract infection (UTI) and sepsis.
The PHSO said in a statement: "Even though her symptoms and tests clearly showed that the UTI was the most likely cause of the sepsis, hospital staff did not sufficiently act on this and focussed on treating the chest infection."
'Absolute star'
The PHSO found Miss Hemmings was not given the correct antibiotic until 15 hours after she had been admitted. By this point, it was too late and she suffered a heart attack and died.
Mrs Hemmings brought a complaint to the PHSO after Doncaster and Bassetlaw Hospitals NHS Foundation Trust's own investigation "failed to recognise several serious mistakes in her daughter's treatment".
She said her daughter was "an absolute star" who lived independently in a bungalow.
Mrs Hemmings said she has been working with the hospital and "things have changed".
She said: "It has been hard for all the family, her dad, brothers and grandparents.
"So if we can help anyone else, that's what Anna would have wanted."
'Save lives'
Sewa Singh, medical director at Doncaster and Bassetlaw Teaching Hospitals, accepted some aspects of the care Miss Hemmings received could have been improved.
Dr Ron Daniels, chief executive of the UK Sepsis Trust, said the case highlighted "the importance of people speaking up when things go wrong".
He said: "As this case shows, it is essential that the NHS learns from mistakes and ensures that sepsis is promptly diagnosed and treated. This will ultimately save lives."