Abigail Hall inquest: Sheffield Hallam student's death 'accidental'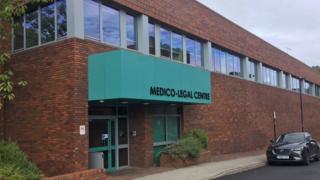 The death of a student four days after she started university was accidental, a coroner has ruled.
Abigail Hall died aged 18 in Sheffield Hallam University's Trigon student halls on 23 September 2015.
Doctors told the inquest reasons for Ms Hall's "incredibly tragic" death were "unexplained and unclear".
Coroner David Urpeth concluded Ms Hall's death was accidental and said her sickness for several days prior was caused by a virus.
Ms Hall, from Doncaster, had suffered stomach pains and vomiting in the run-up to her death.
The day before she died her parents took her to an NHS walk-in centre where GP Dr Thomas Pollack prescribed Buscopan to reduce stomach cramps.
A post-mortem revealed Ms Hall died from aspiration pneumonitis, when foreign bodies enter the lungs. A secondary cause was gastro-enteritis.
Consultant gastroenterologists Ashraf Soliman and Mark Donnelly agreed the death was "extremely rare and unpredictable" for such a young and otherwise healthy person.
Evidence had previously centred around whether or not Ms Hall had described her vomit to Dr Pollack as having "coffee-ground granules" in it, indicative of internal bleeding.
However, the gastroenterologists agreed even if she had been referred to hospital it was "likely" she would have been classed as "low risk" and discharged.
Dr Donnelly, of Sheffield Teaching Hospitals, said: "I'm trying to [explain] how a fit young lady can die in this situation, which I've never come across before."
He said the death was "incredibly tragic and heartbreaking", adding: "Abigail's death is unexplained and unclear."
Dr Donnelly said acid from vomit in her airways would have prevented oxygen exchange and caused death.
Barnsley Hospital's Dr Soliman described it as an "extremely rare, tragic incident".
Summing up, the coroner said Ms Hall did not die because of a significant internal bleed, so the mention of "coffee-ground granules" was "to some extent a red herring".
"Everyone [Abigail's family, flatmates and the doctor] thought she would simply get better," Mr Urpeth said. "It was a reasonable assumption by everybody."
He added that while not a factor in Ms Hall's, death he was "very concerned" staff at Trigon, owned by Derwent, were still not first-aid trained and there was no defibrillator at the halls.
Mr Urpeth said he would issue a Preventing Death Notice and tell the GMC about "astonishing" revelations Dr Pollack was "notoriously deaf".