Two suspended in HMP Doncaster prison transfer probe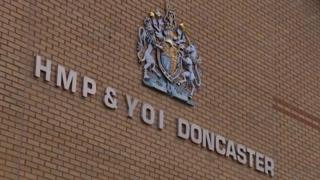 Two charity workers have been suspended over claims they helped inmates secure moves to lower-security prisons.
The women, named in reports as mother and daughter Linda Cook, 53, and Carrie Lawson, 35, worked for charity Catch22 at Category B prison HMP Doncaster.
The charity said they were suspended after "potential irregularities around prisoner movements" were identified.
Serco, which runs HMP Doncaster, said it would be "inappropriate" to comment on another organisation's employees.
More stories from across Yorkshire
Offender management charity Catch22 helps inmates with their rehabilitation and resettlement and also assists in the review process to ensure that prisoners move on to the right category prison at the right time.
A spokesman for the charity said: "We can confirm that monitoring picked up some potential irregularities around prisoner movements.
"We acted immediately and an investigation is underway with all of the relevant authorities."
The Ministry of Justice said it would not be making a statement while the investigation was ongoing.
South Yorkshire Police has not responded to the BBC's request for a comment.