Sheffield student died four days after moving to university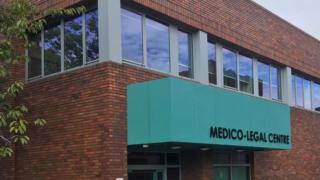 An 18-year-old student died suddenly just four days after moving to university, an inquest has heard.
Abigail Hall, from Balby in Doncaster, had been vomiting and suffering from stomach pains before she collapsed in September 2015, the coroner was told.
Despite asking staff at her student halls at Sheffield Hallam University to call a doctor, she was told it was not possible.
Ms Hall was found unconscious in her bathroom by a flatmate two days later.
Lynn Bennett, manager of Trigon hall, told coroner David Urpeth at Sheffield Medico Legal Centre that doctors cannot be called to the halls but students are offered a taxi to visit a doctor, or an ambulance can be called if they are too ill.
Trigon is owned by property management company Derwent Students but operates in partnership with Sheffield Hallam University.
Ms Bennett said the halls have different procedures in emergencies and cases of suspected meningitis, when medical services are notified immediately.
Ms Bennett told court she visited Ms Hall's room twice but she declined a taxi or ambulance saying her parents would visit the next day, 22 September.
Mark and Charlotte Hall, took their daughter to an NHS walk-in clinic where Ms Hall told the GP of stomach spasms and sickness every 30 to 40 minutes.
She described her vomit as "coffee-coloured" and the GP thought it could be a virus or early appendicitis.
Abigail was "excited and nervous" to be starting university and "disappointed" to be too ill to enjoy her Freshers' Week, the court heard.
Her friends and new flatmates said she was "kind and friendly" and otherwise healthy and happy.
She had been for two nights out before falling ill, but friends said she had not been drunk.
Mrs Hall said her daughter was "really concerned" about missing the start of university and had put the illness down to a bug or stomach flu.
"She just wanted to get over it and go to uni the next morning," she said.
But Abigail was too weak to go and was found unconscious by her flatmates on the evening of 23 September.
The court heard a post-mortem examination found she died of aspiration pneumonitis, caused when foreign bodies enter the lungs.
The inquest continues.