Drivers 'abuse' highways officers dealing with M18 crash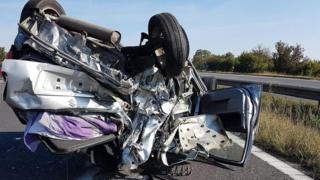 Highways officers dealing with a crash on a motorway were abused by drivers as they tried to close the road, police have said.
Part of the M18 was closed after three vehicles crashed northbound near junction 1 at Bramley at 09:25 BST.
South Yorkshire Police said stranded motorists verbally abused officers and some drove the wrong way up the hard shoulder to get out of queuing traffic.
They warned cameras were being checked and people could face prosecution.
Two people were taken to hospital following the crash.
In a Facebook post, the force's operational support thanked people for being patient while it dealt with the crash.
It said: "What we don't appreciate is stranded motorists thinking it's ok to verbally abuse highways agency staff who are trying to put closures on and divert traffic or thinking it's a good idea to drive the wrong way up the hard shoulder in order to get out of the traffic jam.
"Please rest assured that when we check our cameras if we can identify you we will prosecute you."
Police said the road has since reopened.