Sheffield firm fined £500,000 over workman's death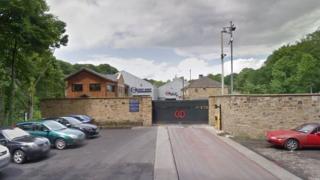 A hot metal forging company has been fined £500,000 after a workman was killed when he was struck in the chest by a 20kg alloy cylinder.
Billy Fairweather, 35, died as a result of the injuries he suffered while working at Abbey Forged Products, in Beeley Wood Lane, Sheffield, in 2015.
The firm was fined at Sheffield Crown Court after it admitted breaching health and safety regulations.
The BBC has approached Abbey Forged Products for a comment.
More stories from across Yorkshire
Mr Fairweather was part of a team of four tasked with hammering down pieces of hard alloy.
One of the pieces he was working on was small but still hard alloy so he moved from the small hammer he had been assigned to a more powerful one.
His job was to move the alloy on the anvil using tongs between hammer strikes until it was forged into the desired shape.
The court heard the incident occurred when the hammer came down when the alloy was not properly seated on the anvil, striking it with a glancing blow and firing it into Mr Fairweather's chest.
'Tragic incident'
An investigation by the Health and Safety Executive (HSE) found the company had failed to allocate the job to the correct hammer and crew, and failed to properly assess the risks involved with hammering small components on large hammers.
The investigation also found the company failed to provide a safe system of work that considered communication and which allowed line of sight of the work piece.
HSE inspector Carol Downes commented: "This tragic incident could easily have been prevented if the employer had acted to identify and manage the risks involved, put a safe system of work in place, and to ensure that the job was allocated to the appropriate equipment."
Abbey Forged Products was also ordered to pay about £23,000 in costs.