Period poverty: Barnsley FC offer free sanitary items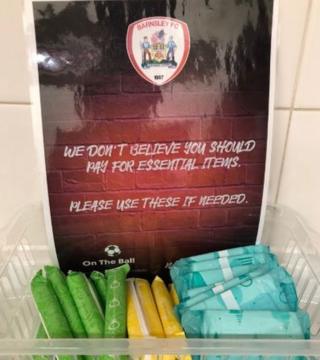 Barnsley FC have been praised for offering free sanitary products at their stadium.
The Tykes have been working with campaign group On The Ball to make sure all female toilets are stocked with free tampons and towels.
Barnsley are one of six clubs to offer the items and have been praised for their progressive thinking.
Hazel Potter, a visiting AFC Wimbledon supporter, tweeted that the gesture was "bloomin' marvellous".
Yorkshire breaking news: Sir Norman Bettison will not be prosecuted over Hillsborough; Supermarket evacuated as sinkhole appears
She said: "It would be amazing if we could see this in every football club toilet and at other sporting and entertainment venues, public buildings and so on.
"All credit to the trailblazers like Barnsley for showing how things should be done."
Period poverty
On The Ball was set up by friends, Orlaith Duffy, Erin Slaven and Mikaela Mckinley, who got their club Celtic on board.
Miss Duffy said they were inspired to take action because of period poverty, where women cannot afford sanitary products.
She said: "The fact that Celtic got on board with us straight away was brilliant but to have other clubs follow suit is really overwhelming for us. This is such an important issue."
Barnsley's chief executive Gauthier Ganaye said the club wanted to highlight On The Ball's work of tackling "a taboo subject in a sporting environment".
He said: "When you consider that toilet roll and other hygiene essentials aren't something you are required to pay for in public toilets, then you raise the question as to why a lady shouldn't have to pay for sanitary products."
Other clubs to introduce the measure include Tranmere Rovers, Queen of the South, Kilmarnock, Dundee United and Aberdeen.
Earlier this month, Barnsley were also praised after Mr Ganaye wrote a supportive letter to a lifelong fan who openly discussed his depression and anxiety on social media.
Mr Ganaye told Chris Ryder his "office door is always open" and the League One club would be "returning the favour" in support for his loyalty as a fan.