Motorists idling near some Sheffield schools face fines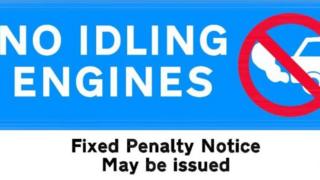 Motorists parking outside 20 schools in Sheffield will be fined for leaving their engines running from next month.
The penalty will be introduced at the schools where the highest levels of pollution have been recorded, the council said.
Signs will be installed outside the grounds warning motorists of the new restrictions.
The city's principal engineer Chris Galloway said it was preventable pollution and affected young children.
More news across Yorkshire here
Mr Galloway said in a report: "In common with many major cities, Sheffield has problems with poor air quality, particularly around major roads.
"Sheffield roads have concentrations of nitrogen dioxide forecast above legal limits.
"Engine idling is a significant factor to air pollution in some areas of the city such as the taxi rank near the Midland Train Station.
"It is a preventable and unnecessary source of emissions, particularly at locations with sensitive receptors such as children."
Signs will be put up close to the schools advising drivers and if they are caught, they face a £20 fixed penalty notice.
The council says this first phase of cutting air pollution is estimated to cost £8,500 which will be spent on 80 signs, four per school.
In June Labour councillor Jack Scott claimed Sheffield was one of the first places to introduce the policy outside of London.
"As a parent, I'm all too aware of the people who leave their engines running at the school gates," he said.
---
Schools where motorists will be fined for leaving vehicles idling:
Lowfield Infant and Juniors
Oasis Don Valley Nursery, Infant and Juniors
Hillsborough Nursery, Infant and Juniors
Tinsley Meadows Nursery, Infant and Juniors
Springfield Nursery, Infant and Juniors
Nether Green Infant and Juniors
Woodseats Nursery, Infant and Juniors
Manor Lodge Nursery, Infant and Juniors
Brightside Nursery Infant and Limpsfield Juniors
Byron Wood Nursery, Infant and Juniors
Holt House Infants and Carterknowle Juniors
Whiteways Nursery, Infant and Juniors
Netherthorpe Nursery, Infant and Juniors
Nether Edge Nursery, Infant and Juniors
Anns Grove Nursery, Infant and Juniors
Dobcroft Infants and Juniors
Meersbrook Bank Nursery, Infant and Juniors
Wincobank Nursery Infants and Concord Juniors
Owler Brook Nursery, Infant and Juniors