Sheffield terror suspect 'close' to Manchester Arena bomber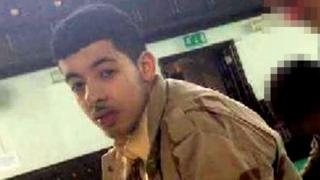 A dental student accused of funding terrorism told a friend he had "close family links" to Manchester Arena bomber Salman Abedi, a court has heard.
Abdurahman Kaabar, 23, also sent a message saying 'may Allah forgive him' just days after Abedi detonated a bomb killing 22 people in May 2017.
Prosecutors allege he twice sent money to his brother Mohammed in Syria.
Mr Kaabar, of Sheffield, has admitted sending money on one occasion but told jurors it was for "medicinal purposes".
More stories from across Yorkshire
Summing up the case at Sheffield Crown Court, Judge Paul Watson QC read out a series of messages exchanged between Mr Kaabar and another man.
The conversation started on 24 May when the unnamed man sent Mr Kaabar a link to a BBC News article naming Abedi.
Mr Kaabar replied a day later saying: "Knew da kid. Close family links. May Allah forgive him and grant him the highest levels of Jannah [paradise]."
The court also heard he had sent the words "Allahu Akbar", meaning "God is greatest", in a conversation in the wake of the terror attack on the offices of Charlie Hebdo in Paris in January 2015.
He was also part of a Whatsapp group chat to which another member sent the message "happy 9/11 everyone".
The court previously heard Mr Kaabar's younger brother Mohammed had travelled to Syria in March 2016 with another man, Ahmed Hadrami, to fight against the Syrian government.
Prosecutor Michelle Nelson said they appeared to have been part of Jaysh al Fatah, a group linked to Al Nusra, or the Nusra Front, which changed its name to Jabhat al Fatah Al Sham.
'Purposes of terrorism'
Judge Watson told jurors Mr Kaabar had given evidence that he had sent money to his brother between September 2016 and January 2017 but that "he did not intend nor did he believe it was to be used for the purposes of terrorism".
He said he had "trusted " his brother that the money was to fund treatment medical treatment.
Mr Kaabar denied sending a second tranche of money between June and August 2017 saying there had been a discussion but no money was sent.
Mr Kaabar, in his first year of a dentistry degree at Plymouth University, has admitted three counts of possessing terrorist material and 12 counts of disseminating a terrorist publication, but denies funding terrorism.
The trial continues.