Toxic blue green algae fear at Sandall Park lake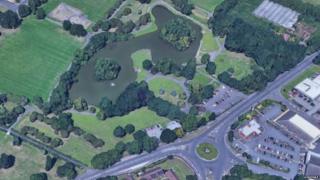 An outbreak of potentially toxic blue green algae has prompted an inquiry at a lake in a South Yorkshire park.
Visitors to Sandall Park in Doncaster are being advised not to go into the water and pet owners should keep their animals away from the lake.
Warning signs have been put up near the water by Doncaster Council "as a precautionary measure".
The outbreak comes weeks after ducks died there from eating toxic decaying vegetation on the bed of the lake.
Councillor Chris McGuinness, Doncaster Council Cabinet Member for the Environment, said: "Since the outbreak was identified we have put up warning signs at Sandall Park as a precautionary measure.
"It has not yet been confirmed if the algae in Sandall Park is toxic so we are currently taking full precautions and are working closely with the Environment Agency to investigate further.
"It is vitally important that visitors to the park do not enter the lake or let their dogs drink or go in the water.
"We do not want to cause unnecessary alarm. However, it is better to be safe than sorry."
The Environment Agency said it was not uncommon to see he algae "following a period of warm, calm weather".
"The algae can produce toxins which are harmful to animals and can cause rashes and illness in humans," a spokesman said.