Ex-South Yorkshire Police worker jailed for cash theft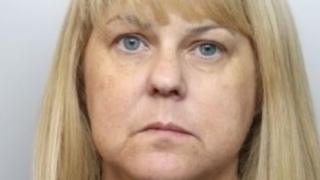 An ex-police worker who stole almost £100,000 of seized cash has been jailed.
Jacqueline Fletcher, 48, who ran the property store at Attercliffe Police Station, Sheffield, pocketed £98,500 taken during an investigation.
She also admitted stealing £180,000 from a house sale and benefits payments earmarked to pay for her mother's care.
Fletcher, of Boundary Walk, Rotherham, was jailed for two years and eight months at Sheffield Crown Court.
She admitted one count of theft from South Yorkshire Police, two counts of theft from the Department for Work and Pensions (DWP) and one count of theft from the person of another.
More stories from across Yorkshire
Fletcher, who worked for the force until 2015, deposited the police haul into her own bank account.
The theft came to light in summer 2017, when a Proceeds of Crime Act investigation connected to the seized money requested the cash.
'Truly despicable'
Further investigations uncovered £63,548 in pension and allowance benefits from the DWP between October 2011 and July 2016.
The benefit payments were for her mother, who was in a care home, to be used for fees and associated costs, but none were ever paid.
Officers also found Fletcher had received £116,527 from the sale of her mother's home in 2011, with the proceeds intended to cover care home fees.
Of this money, £68,624.26 was paid towards the fees, £15,000 given to another family member, and the remainder spent by Fletcher.
Speaking after the sentencing, Det Insp Anna Sedgwick branded Fletcher's conduct "truly despicable."