MP Jared O'Mara promises to 'champion equality' in maiden speech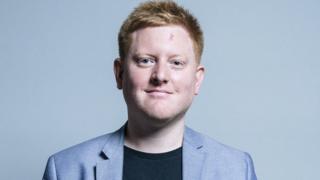 Sheffield Hallam MP Jared O'Mara has said he will "champion the cause of equality" in his maiden speech in the House of Commons.
The MP was speaking for the first time in the chamber since being elected 13 months ago.
Mr O'Mara was suspended as a Labour MP over alleged sexist and homophobic comments before quitting the party.
He said it was "an honour" to have the chance to represent disabled people as well as serving his constituents.
In a four-minute speech, the Independent MP for Sheffield Hallam also talked about Jesus and forgiveness after admitting "mistakes I made when I was young, and for which I am truly sorry have hurt a lot of people".
He said he was "unable to speak in the House with confidence until now" and described how he was the "very first autistic MP, as well as having cerebral palsy and other disabilities".
'Unwavering commitment'
Mr O'Mara said he was "very proud" of Sheffield, after paying tribute to former Liberal Democrat leader Sir Nick Clegg and praising the city's sports stars.
He added he is returning to parliament in September with "an unwavering commitment to social justice".
Mr O'Mara was suspended from the Labour Party in October over alleged homophobic and misogynistic comments.
He was reinstated on 3 July following an investigation but resigned days later.