Sheffield tree protester guilty of obstructing PC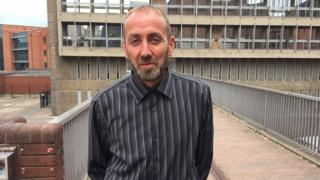 An anti-tree felling campaigner has been convicted of obstructing police for failing to give his name and address when he was being arrested.
Robert Pearson was asked for details after being held over an alleged public order offence in Sheffield.
He said he was "confused" about his rights but ultimately gave his details. But, city magistrates ruled this was not a "reasonable excuse".
Pearson, aged 48, of Sheffield, was given a 12 month conditional discharge.
More stories from across Yorkshire
He is the first protester to be found guilty of a criminal offence in relation to the ongoing anti-felling campaign.
He was cleared by the court of the public order offence.
Sheffield Magistrates' Court heard Pearson was arrested on 22 February during a protest in Thornsett Road, in Nether Edge, after it was claimed he threatened a council contractor.
Prosecutor Kate Spence said he had approached traffic management operative Tyler Flanaghan, got "right up in his face" and said "Do you want knocking out?"
She said Mr Flanaghan had felt intimidated and feared "immediate violence".
Giving evidence however, Pearson denied the allegation.
He said Mr Flanaghan had been muttering and swearing under his breath as he approached the protest site and he, Pearson, had put two fingers up at Mr Flanaghan and sworn at him before walking off.
Chair of the bench, Liz Arundale, said the panel found both versions of events "credible" and it could not be sure of the exact circumstances therefore the charge was dismissed.
Speaking outside court Pearson said he was "upset" to have been convicted of obstructing an officer "because I should not have been arrested in the first place".
He said the conviction would not prevent him attending future protests.
"As soon as it starts up again I will be there peacefully," he said.
Thousands of trees have been cut down in Sheffield, a proportion of which protesters claim were healthy trees and could have been saved.