Sheffield Hallam MP Jared O'Mara reinstated by Labour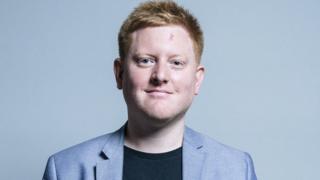 A Labour MP who was suspended over alleged misogynistic and homophobic comments has been reinstated.
Jared O'Mara was suspended in October over a series of online posts and claims he verbally abused a woman.
Following an investigation, the Labour Party has ruled Mr O'Mara should be issued with a formal warning and the party whip restored.
The 36-year-old unseated the former Liberal Democrat leader Nick Clegg as MP for Sheffield Hallam in June 2017.
Yorkshire breaking news: Major fire at North Yorkshire school 'suspicious'; Murder investigation after woman's body found
A Labour Party spokesman said: "The disputes panel has ruled on the balance of the evidence that a formal warning should be issued and a mandatory requirement to attend training."
Mr O'Mara was suspended when a number of comments he posted online as a younger man were revealed by the Guido Fawkes website.
In posts made on the Drowned in Sound music website in 2004, Mr O'Mara claimed singer Michelle McManus only won the television talent show Pop Idol "because she was fat".
He also said it would be funny if jazz musician Jamie Cullum was "sodomised with his own piano" and joked about having an orgy with members of Girls Aloud.
Allegations were also made against Mr O'Mara by Sophie Evans, who said she had met the MP on a dating app before he was elected, and that he had made comments to her that "aren't broadcastable".
Mr O'Mara, who stood down from the Women and Equalities Committee after the remarks surfaced, has apologised for remarks in 2002 and 2004 but previously said he "categorically denies" Ms Evans' allegation.
Penny Baker, the Liberal Democrat councillor for Stannington, said she was "shocked" to learn about Mr O'Mara's "terrible" comments, and accused Labour of not taking them seriously.
Ms Baker said: "With this hearing, Labour had the chance to set things straight, they didn't.
"This is allowing an MP who has offended countless people with his misogynistic and homophobic comments to continue to be a member of the Labour party."
She said people in the Sheffield Hallam ward "deserve better" than Mr O'Mara.